Aerospace and defense company Lockheed Martin and the Pentagon have reached an agreement on the orders for the next two batches of F-35 fighter jets, according to a report from Reuters.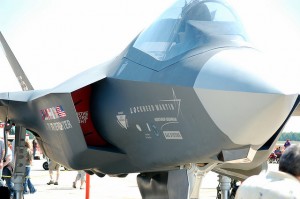 The $7 billion deal covers 71 planes including 60 F-35s for the US military and 11 for Australia, Italy, Turkey and Britain.
The international F-35 Lightning II Joint Strike Fighter (JSF) program is the largest military aerospace program in the world, valued in excess of US$300 billion worldwide. About 3000 JSF aircraft are expected to be delivered during the course of the program.
According to Reuters, the Pentagon has been pushing for lower prices to ensure the future of the arms program. Due to the budget pressure and mandatory budget cuts, $500 billion could be slashed from the US agency's budget over the next decade.
The Pentagon reached its agreement with Lockheed on the fifth batch of F-35s last December, agreeing to buy 32 of the advanced warplanes for $3.8 billion. For this deal, 36 jets will be purchased from the sixth batch, while 35 in the seventh production lot.
The new deal is good news for Lockheed which, according to the report, generates 15 percent of its revenue from the F-35 program. This is also good news for the various suppliers, which include Australian carbon-fibre composite manufacturer Quickstep.
Just last week Quickstep has announced that it has delivered the 100th manufactured carbon-fiber composite part for its contract with Lockheed supplier Northrop Grumman.
Quickstep Managing Director Philippe Odouard says Quickstep's participation in the Joint Strike Fighter program is a "powerful endorsement" of the company's capability, which could help secure other supply contracts in the aerospace and automotive industries.
The company's participation in the JSF program is expected to generate revenue of approximately $40 million per annum.
The Australian Government joined the F-35 program in 2002 and recently reaffirmed its commitment to the program by announcing its intention to operate three squadrons of F-35s beginning in 2020.