Shadow Treasurer Joe Hockey has confirmed that the Coalition Government will cut off its financial support for the Australian automotive industry.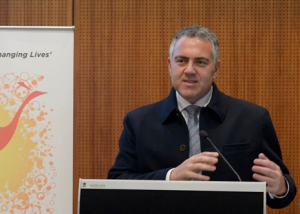 The Guardian reports that Mr. Hockey, speaking at a campaign event in Sydney on Monday, told reporters that the Coalition will not add further money to the car industry and that they will not do any damage the way Labor had with the announcement on changes to the Fringe Benefits Tax.
"No industry can rely forever on government handouts to survive. You need to have a strong economy," said Mr. Hockey. He also likened the FBT announcement to a "baseball bat to the back of the head".
Coalition head Tony Abbott also said the best thing Labor could do would be to scrap its plans to impose changes to the Fringe Benefits Tax which, according to him, have "stopped the industry dead in its tracks."
When asked about whether the Coalition would support the bailout to Holden, Abbott said "I support not going ahead with the $1.8bn fringe benefits slug on the car industry."
Abbott criticized Prime Minister Kevin Rudd saying that since returning to the post, thousands of sales have been cancelled and jobs have been lost because of a decision that has not been consulted.
PM Rudd has confirmed that the government would impose new rules on salary-packaged cars to offset the loss that will be brought about by the decision to move to an emissions trading scheme next year. The statutory formula method for calculating fringe benefits tax, which is the cost of car multiplied by 20 per cent regardless of actual personal use of car, will be removed beginning July 15, 2013.
The cost of dumping the carbon tax would be about $4 billion, and the government plans to compensate for this figure by getting around 320,000 drivers to pay additional tax bills amounting to about $1,400 a year.
Meanwhile, Industry and innovation Minister Kim Carr has reacted strongly to the statements made by the Coalition.
"Joe Hockey has slammed the door on the industry. At his doorstop today he could not have been clearer about what the Coalition's policy really is when he said "we're not going to add further money to the car industry," said Mr. Carr via a media release.
"Unlike Tony Abbott and the Coalition, the Government understands the value of automotive manufacturing to the economy. We understand the benefit of investment in research and development, in cutting-edge technology and in being only one of 13 countries in the world that has the expertise to make a car from scratch."
"Labor will support manufacturing and the communities, workers and businesses down the supply chain who rely on this sector and have done for decades."
"Labor will not give up on Australian jobs even if the Coalition has."