The Labor Government has announced a $200 million package to help secure the future of Australia's car manufacturing by including more Australian-made cars in public and private-sector fleets.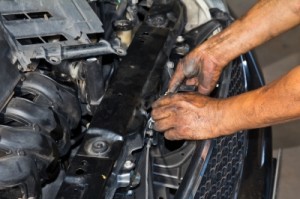 The announcement comes on the first full day of campaigning ahead of September 7's Federal election.
Innovation Minister Senator Kim Carr says the automotive industry is vital to the future of the Australian economy and that the Government is determined to increase the sale of locally-made cars.
"The Government provides a range of support measures to the automotive industry and today we are adding to that by putting $200 million on the table and introducing a 100 per cent target for Australian made cars for Commonwealth fleets," says Mr. Carr in a media release.
"I will continue my discussions with industry as to how this additional funding can best support growth in sales. We are considering a range of options and will release implementation details following further consultation."
Mr. Carr says the sales of Australian-made vehicles could grow by over 18,000 units a year if the policy is implemented at all levels of the government. This would represent an 8 percent increase on 2012 production volumes.
"The motor vehicle manufacturing industry in this country provides thousands of jobs, billions of dollars in export income and investment and benefits in research and development," the Minister said.
"Our actions will provide crucial ongoing support for an industry that has been under considerable pressure with a high Australian dollar over an extended period and an increasingly competitive global market."
In an ABC report Federal Treasurer Chris Bowen says the government has been in talks with car manufacturers for some time now, but stresses that the industry assistance package is not connected to the changes in Fringe Benefits Tax (FBT) announced last month.
"These discussions we've had with the car industry about their future were going on a long time before that and they'll go on a long time after that," Bowen said.
Today Holden Managing Director Mike Devereux is also expected to outline a wage deal to their employees at the Elizabeth plant.
About 1,700 workers at Holden's Elizabeth plant will be asked this Friday to accept a three-year pay freeze and lower conditions to help the car maker save $15 million a year. If they reject the deal, Holden will be forced to shut down its operations.