A smart device app which provides consumers with accurate product information direct from the manufacturer or brand owner has won the prestigious national Consumer iAward.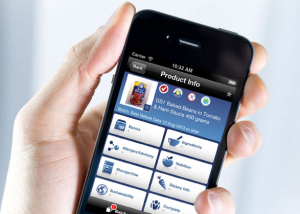 GS1 Australia and the Australian Food and Grocery Council (AFGC) are the recipients of the national ICT award in the 2013 iAwards Services Domain Category for ICT innovation.
According to the news release, the GS1 GoScan which was launched for free download in March, is Australia's first whole-of-industry endorsed smart device application that lets consumers know if a food product conforms to their special dietary needs.
AFGC CEO Gary Dawson says the app is an example of the industry collaborating to surpass labeling expectations.
"This is a great example of industry working together to achieve an outcome above and beyond current labelling expectations and delivering a package that will be able to expand to meet future labelling requirements," Mr. Dawson said.
GS1 GoScan helps consumers who are suffering from food allergies and food intolerances, and those with special diets, access information about food products, direct from the manufacturer.
The app has several categories that provide information to consumers including a list of allergens with detailed explanations from health organizations, ingredient lists which also indicate Genetically Modified products, nutritional content and Recommended Daily Intake, instructions for storage and preparation, dietary classification (i.e. Halal, vegan, Kosher, vegetarian or organic) and more.
GS1 Australia's CEO Maria Palazzolo says the award is a success for everyone involved in the app's development.
"This award is a great achievement for consumers, health professionals and for everyone involved in the development of the app. This app is the only app available today that provides consumers with accurate product information from the manufacturer or brand owner. This can have a marked effect on many people living with allergies or special dietary requirements," Ms. Palazzolo said.
"As manufacturers and brand owners continue to list their products on our database, the application will increasingly empower Australians to make more informed food choices."
Ms. Palazzolo says being recognized for the app demonstrates how key industry groups such as GS1 and AFGC apply innovation and new technologies in traditional sectors such as food and beverages.
"On behalf of the GS1 GoScan team at GS1 Australia and in collaboration with the AFGC, I am deeply honoured and very grateful to accept this high-profile award."
The GS1 GoScan app was developed with the cooperation of major retailers, local and international food companies, the AFGC, Australian Universities and National Health Organizations including Allergy & Anaphylaxis Australia.
The app is currently available for free download on the App Store and will also be available from Samsung Apps and the Google Play Store on Wednesday 28th August 2013.
For more information go to www.goscan.com.au.