Australian steel manufacturer BlueScope Steel has reported an annual net loss after tax of $84.1 million for the financial year, a $960 million turnaround from the loss they posted last year.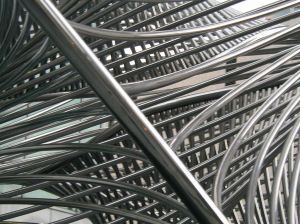 In a media release BlueScope Chairman Graham Kraehe AO says the company is pleased with the financial recovery and improving performance which contributed to their robust balance sheet.
"The steel industry has faced substantial challenges since 2008. Management initiatives and changes across the entire company, supported by the Board, have delivered a significant turnaround this year. BlueScope's financial position has been strengthened and the Company is well placed to benefit from any recovery in the Australian economy and has the ability to grow in key overseas markets," Mr. Kraehe said.
In particular the company credits the improvement of their financial year to the $267 million underlying earnings turnaround and the debt reduction. Net debt at 30 June was $148 million, compared to $584 million a year earlier.
BlueScope Chief Executive Paul O'Malley believes the company's financial position will continue to improve this year.
"Despite the ongoing difficult trading conditions in the domestic economy and the global steel sector overall, we are pleased with the progress of the Company's turnaround," Mr. O'Malley said.
O'Malley says BlueScope has benefited from two major initiatives this year: the successful negotiation and execution of the NS BlueScope Coated Products Joint Venture with Nippon Steel & Sumitomo Metal Corporation, and the business with Coated & Industrial Products Australia (CIPA) which delivered $150 million in underlying EBITDA for the year.
BlueScope has also announced that they acquiring two businesses from Hills Holdings Limited: Orrcon, a pipe and tube manufacturer and distributor, and Fielders, a building products business, for a combined purchase price of $87.5 million. The Board has also decided the investors will not receive a final dividend for the year.
Looking forward the company says they expect to maintain their performance and deliver a profitable first half for 2014. However they do not expect that the outcome for the first half of 2014 will be better than the second half 2013 outcome, given the uncertainty in domestic Australian demand.