Tony Abbott also wants Australia to be "a country that makes things", but says the Coalition Government will not be writing "blank cheques" for the car industry.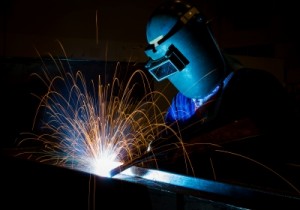 In an AAP report published on The Australian the Coalition's head says they will not run after Holden, but they would be open to discussions with the car manufacturer.
"What we aren't going to do … is run down the road after Holden waving a blank cheque at them," Mr. Abbott said.
"That is not a sensible way for an adult government to behave, but we are happy to sit down with them."
When asked whether or not Coalition would provide more money to Holden and Toyota, Mr. Abbott said "Let's cross those bridges if and when we get there."
Speaking at the Volvo Group plant in Brisbane he also outlined the rest of the Coalition's plans for the manufacturing industry, which includes the appointment of a trade and investment minister, providing an initial $50 million support for export market development grants and investing $50 million into a manufacturing transition fund.
He also said abolishing the carbon and mining taxes, implementing a company tax cut, reducing regulations, building roads and reforming workplace laws will benefit manufacturers.
Mr. Abbott hinted at taking a cue from the Howard coalition government where he said the car industry flourished.
"We have a good record when it comes to working with the car manufacturers," he said.
"We will act in that same spirit in the future."
Meanwhile Opposition industry spokeswoman Sophie Mirabella criticized the Labor Government for not stemming the massive job losses and plant closures despite increasing spending on the automotive sector.
"It's not just about an amount of money – it is about ensuring that the rules and benchmarks for funding the car sector are sustainable and aimed at long-term viability for the sector," she said.
While Coalition has a wait-and-see plan regarding Holden's future, South Australian Premier Jay Weatherill yesterday visited Holden Managing Director Mike Devereux to secure a written commitment from the company regarding its future in Australia.
Holden has already implied that it will wait until after Federal elections are over to make a decision concerning their operations in the country, but Mr. Weatherill says he wants to secure a deal before the vote to "put pressure" on Tony Abbott.