Hundreds of Ford workers have been forced to stay at home today as the company decided to shut down production for six days due to a drop in orders for new vehicles following the announcement of changes to the Fringe Benefits Tax.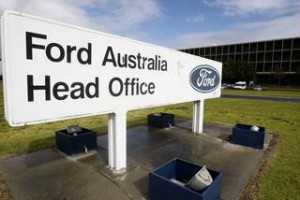 According to a media release, Victorian Manufacturing Minister David Hodgett said an emergency meeting was held by the Premier's Ford Taskforce on Tuesday due to the concerning impact of the FBT changes on the automotive sector.
"This is a dark day for automotive manufacturing in Victoria," Mr Hodgett said.
"Ford has the first of six stop work days today, with the second tomorrow. This is just the tip of the iceberg in terms of the impacts being felt right across the sector."
Mr. Hodgett says the impact of Kevin Rudd's "ill-considered decision" is huge as the State stands to lose thousands of jobs in the automotive sector.
"Kevin Rudd's FBT changes stand to reduce Australia's car production by 20 per cent. We employ 24,000 people in the automotive sector in Victoria; we are talking about thousands of potential job losses here," Mr. Hodgett said.
"These FBT changes are a serious blow to the automotive manufacturing industry, which already faces considerable challenges including the high Australian dollar, inflexible workplace laws and the carbon tax."
Mr. Hodgett is urging PM Rudd to reverse his policy before it does irreparable damage to automotive manufacturing.
"It is clear that these FBT changes were proposed with no consultation to industry or studies into the effect they would have on the manufacturing sector," he said.
Dealers are already reporting drops in sales and up to 70 percent have said they are considering laying off their workers.
In a related article, Ford Australia public affairs director Sinead Phipps said they have decided to shut down production for 12 days over the next two months, but only six of those are a result of the government's changes to FBT rules.