Australian energy storage systems developer RedFlow says it will soon begin its venture into manufacturing and expects its zinc-bromide flow batteries to be in commercial production by the end of the current financial year.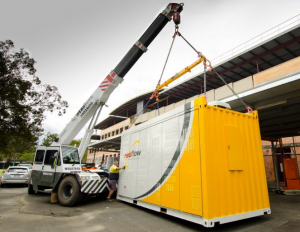 RenewEconomy reports that RedFlow has gone through restructuring in the last 18 months in order to focus on its battery development and the company expects to secure a manufacturing deal soon, with production to commence within 9 months.
"We believe we are now at a stage where we have a product ready for commercial applications," RedFlow CEO Stuart Smith told RenewEconomy. "We are in the process of reviewing final proposals from the shortlisted manufacturers and expect to make an appointment shortly."
According to RedFlow their standard 3kW continuous/8kWh zinc-bromide battery module (ZBM) is designed to be integrated into electricity storage systems for a range of stationary applications. The flow battery is ideal for storage and shifting of intermittent renewable energy, and managing peak load or supporting off-grid systems due to its daily deep charge and discharge capability.
The modular flow battery will be a first in the market and Mr. Smith says this should give them a firm advantage over their rivals. Over 100 ZBMs are now deployed in the field in a number of applications in Australia such as the University of Queensland, as well as in the United States and other countries.
RedFlow manufactures the ZBMs at their facility in Brisbane and is also developing an outsourced overseas manufacturing capacity. A number of companies are evaluating the ZBM for their own electricity storage systems.
The company believes there is a great need for cost-effective energy storage solutions around the world especially for electric and hybrid vehicles, distributed energy and utility grid storage but increasing power demand cannot be satisfied by building new generation and distribution capacity. This is where the ZBM would come in.
"The move towards distributed generation using sustainable resources such as the sun and wind supported by government regulation, funding and renewable energy targets is well under way worldwide," Mr. Smith told RenewEconomy.
"The efficient capture, storage and use of these resources are fundamental to reform which has only just commenced, and we believe our ZBM has the performance characteristics to capture a large portion of this market and address these needs."
For more information about RedFlow's ZBM, go here.