The same industry expert who played a major role in the development of the Motor Industry Development Plan (also known as the Button Plan) in the 1980's has now suggested that Holden and Ford's manufacturing facilities should be sold to or allied with a Chinese company.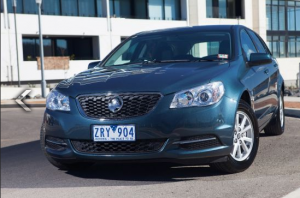 News.com.au reports the pronouncement made by Dr. Nicholas Gruen who was interviewed by Radio 2GB's Money News show on Wednesday night.
"At the moment there is no question that the money we are throwing at the (car) industry will simply buy us one more model cycle before they exit the back door like a waiter with their tip," Dr. Gruen said.
"Consider a Chinese company which doesn't have a lot of design capability, many of them can't design a complete car and have no large car even on the drawing boards, this is actually a very good fit for them."
He then suggested that Holden and Ford's Australian manufacturing facilities should be sold to or have an alliance formed with a Chinese company.
Dr. Gruen said the Federal Government should be telling American companies that they are not going to give financial assistance unless the carmakers come up with a "credible joint structure or phased handover" which will convince the government that it isn't "good money after bad".
He also said that if an Australian car manufacturer were to shut down, "it's not a catastrophe, it's unfortunate". More conditions should be attached to future handouts from the government, says Dr. Gruen.
"We've already committed to throwing a fair bit of money at this industry for good or for bad, how can we can think about doing it in the most constructive way possible?" said Dr Gruen.
Both Holden and Ford declined to comment on the industry expert's proposal but the report says Ford has not considered a Chinese buyer for its Broadmeadows and Geelong plants, both of which will be up for sale in October 2016.
According to report, it would be also difficult to determine what benefits could be gained from an Australian factory joining a Chinese company given the high cost of local labour.