Held at the Old Parliament House in Canberra on Monday, 28 April 2014, the 9th annual Safe Work Australia Awards have recognised and celebrated excellence in workplace health and safety at a national level.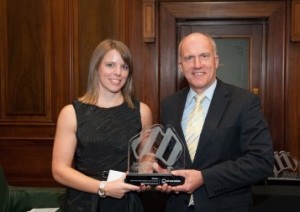 According to the media release by Safe Work Australia, the Safe Work Australia Awards showcase the best workplace safety solutions, innovations and systems across the nation and celebrates what can be achieved to reduce workplace incidents and deaths.
"I am delighted to see individuals, small businesses and large organisations finding solutions to make their workplaces safer. Their commitment and passion has made a difference in the community and ensured safer workplaces leading to more people getting home safely to their families," said Minister for Employment Senator Abetz in congratulating the winners and finalists of this year's event.
"The leadership and innovation of people and organisations like those celebrated at the Awards that not only helps to reduce the number of workplace deaths and injuries but also helps to create a positive workplace culture. Congratulations to this year's winners and finalists — their outstanding efforts are helping Australia get a step closer to achieving our vision of healthy, safe and productive working lives."
This year, there were 37 finalists that received highest honours at the ceremony. The winners of this year's Safe Work Australia Awards are:
Category 1 — the Best Workplace Health and Safety Management System
VEC Civil Engineering Pty Ltd, a leader in bridge design and construction, road and rail work, civil construction, water infrastructure and steel fabrication services in Tasmania, received the award for their outstanding health and safety management system.
Category 2 — Best Solution to an Identified Workplace Health and Safety Issue
Frasers Livestock Transport, a family company that transports around four million head of livestock across nine million kilometres of eastern Australia each year, won for researching, designing and custom building the Cross-loading Module.
Category 3 — Best Workplace Health and Safety Practice/s in a Small Business
Zetco Valves Pty Ltd, a nationwide distributor of valves, specialising in importing and distributing heavy metal valves for plumbing and industrial applications, was pronounced winner of  for implementing technology solutions which larger organisations have failed to.
Category 4a — Best Individual Contribution to Workplace Health and Safety (by an employee)
Jedda McGlinchey, a paramedic with Ambulance Victoria, and Rodney Cook, from the Northcoast Institute of TAFE in New South Wales, were named joint winners for making "an exceptional difference to health and safety".
Category 4b — Best Individual Contribution to Workplace Health and Safety (by a Work Health and Safety Manager)
Jennifer Bell, the Injury Management Coordinator for RSPCA Qld, was crowned winner "for an outstanding contribution by a work health and safety manager or a person with responsibility for work health and safety as part of their duties." Phyllip Bix, the Health and Safety Officer for Grampians Regional Prison, was highly commended in the same category for his tireless commitment to develop a comprehensive health and wellbeing program for new and existing employees.