Leading power and automation technology group ABB is set to unveil YuMi, the world's first truly collaborative dual-arm industrial robot, at the largest trade fair for industrial technology in the world – the Hannover Messe.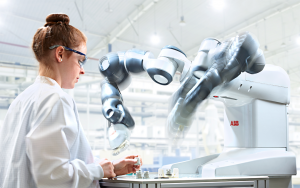 The introduction of YuMi – scheduled to take place next week – will see ABB enter the new age of robotics, just like it did four decades ago with the introduction of the world's first microprocessor-controlled robot.
"YuMi's arrival will fundamentally expand the types of industrial processes that can be automated to encompass small-parts assembly that is prevalent in the electronics industry. YuMi makes collaboration between humans and robots a reality. A new era of robotic coworkers has arrived," it says in ABB's press release.
ABB is a leading supplier of industrial robots, modular manufacturing systems and service, with a strong focus on delivering solutions that help manufacturers improve productivity, product quality and worker safety.
The ABB Group of companies operates in around 100 countries and employs about 140,000 people. To date, the company has installed more than 250,000 robots worldwide.