Australia's leading precious metals and bullion specialist, the ABC Bullion, has been selected to manufacture the Emirates Melbourne Cup Trophy for 2016.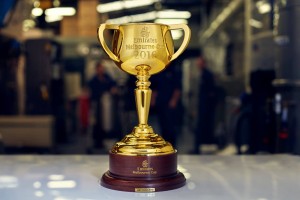 In a media release to Australian Manufacturing, ABC Bullion said that the $175,000 icon of world horseracing will be made using gold that has been mined, refined, and crafted wholly in Australia for the first time in its 150-year history.
The trophy contains 1.65kg of gold and 44 pieces that are hand spun over a 250-hour production process.
ABC Bullion is the bullion division of Pallion, Australasia's largest precious metals services group.
"The Emirates Melbourne Cup is the most legendary and beloved trophy in Australian racing. As an Australian company with a rich heritage in locally sourced and produced precious metals, we're elated to partner with the VRC for this special event on the international racing calendar," said Pallion CEO Andrew Cochineas.
"We look forward to using our technical expertise in precious metal to produce truly beautiful Melbourne Cups. It is a true international treasure that we are very proud to now hold within our production portfolio."
"Pallion and ABC Bullion had a vision to partner with Australia's premier racing brand and presented an exciting commercial proposition to the VRC. We are looking forward to working with ABC Bullion moving forward," added VRC Chief Executive Simon Love.
The Melbourne Cup, also known as the "Loving Cup" has three handles – one for the jockey, one for the trainer and one for the owner.
The Melbourne Cup was made by Melbourne jewellers Hardy Brothers for 25 years.