Automotive Components Limited (ACL) Bearing — the famous car parts maker located in Launceston, Tasmania — has shut down after supporting the local economy for nearly 80 years.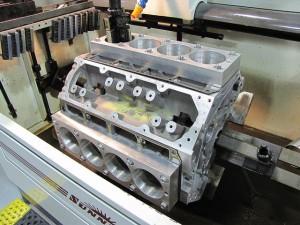 The degrading car manufacturing industry and the global financial crisis have delivered hard hits to the Tasmanian car parts maker.
ABC reports that the company has been in receivership since 2009; however, Ford's announcement to cease operations in Australia by 2016 was the fatal blow for the company. Ford was one of ACL's biggest customers, along with Holden, Toyota and Mitsubishi.
The Federal Government's efforts to save the company were in vain. Now, a total of 136 workers will lose their jobs.
ACL began making history in 1937 as Repco. In 1966, Sir Jack Brabham drove a Repco engine, that was designed and built in Launceston, when he won the Formula One World Championship.
"It really put Australia on the map in terms of being able to come up with a design to take on the best in the world," said motor racing commentator Barry Oliver.
ACL was a key player in the Australian automotive components market and a distributor of automotive components and accessories. The company manufactured engine bearings, bearing materials, powder metallurgy parts and gasket. Aside from being a market leader, the company employed over 6500 people in Launceston. The closure is expected to deliver a drastic blow to the economy.
"We estimate that's worth $5.5 million in wages lost to the region so it'll obviously have an impact on the economy," said Maree Tetlow, Executive Officer from the Launceston Chamber of Commerce.
The receivers for the Launceston car parts maker announced last year they would be closing the struggling business after failing to secure a buyer.
They are currently negotiating with companies around the world to buy ACL Bearing's equipment, processes and name.
According to the article on the Examiner, ACL Bearing's receiver and manager Matt Byrnes said workers were promptly advised of yesterday's shutdown, and that the sale of some assets was ongoing.
"It will be a good three or four months before we're able to completely clear the site again, it's a bit unknown but it's a good estimate," he said.
"The feeling with employees has been really positive, once they understood there was no one to keep operations in Launceston. They've been really positive in working with us towards the wind-down. We've been very conscious of employees and have tried to work with them as best we can to help them work with life after ACL."