Honda Aircraft Company, a wholly owned subsidiary of American Honda Motor Co., Inc., has announced on a press release that on 27 June, HondaJet — the first light-weight business jet developed by the car maker — has completed a successful test flight.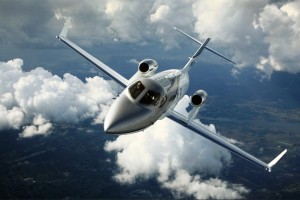 "With this first flight, the HondaJet program has entered the next exciting phase as we prepare for delivery. Today's celebration is the culmination of extensive engineering and production efforts, and this is an important achievement in bringing the world's most advanced light jet to market," said Michimasa Fujino, President and CEO of Honda Aircraft Company.
The HondaJet is the most advanced light business jet aircraft in the world, characterised with best-in-class advantages in performance, comfort, quality and efficiency.
"The HondaJet is the fastest, highest-flying, quietest and most fuel-efficient jet in its class," it says in the press release by the company.
Taking off from Piedmont Triad International Airport in North Carolina, the jet climbed to 15,500 feet during the 84-minute flight, reaching a speed of about 644 kilometres per hour.
"The aircraft was flown by test pilot Warren Gould, pilot-in-command. The crew completed several checks during the flight including low and high speed handling characteristics, avionics and system functionality; including landing gear, flaps and speed brake operations," it says in the press release by Honda.
The plane has a quite unusual design — the engine is over the wing, instead of under it (Over-The-Wing Engine Mount (OTWEM) configuration), which allows for maximisation of cabin space, reduction of cabin sound and improvement of fuel efficiency.
According to the article on GMA Network, the plane is priced at $4.5 million and can seat up to 5 passengers in a standard configuration.
Honda claims it has already begun to take orders from Europe and North America and hopes to put the plane in service in 2015.
The Honda Aircraft Company, LLC was founded in 2006.