The Government of the Australian Capital Territory has chosen Scania, one of the world's leading manufacturers of trucks and buses, to deliver a fleet of 77 Euro 6 city buses, reports the BusinessWire .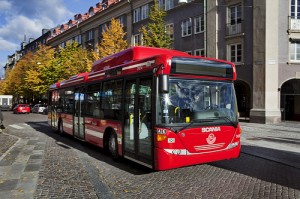 The decision to adopt the Euro 6 technology makes the Australian Capital Territory Internal Omnibus Network (ACTION) the first bus fleet operator in Australia to do so.
"ACTION has decided to take the lead in the introduction of Euro 6 emission technology to bus fleets in Australia," says Trevor O'Brien, National Bus Manager, Scania Australia.
"The Australian Federal Government is yet to announce a date for the introduction of Euro 6 emission standards, underlining the progressive action of the ACT operator."
The first deliveries of the 2-axle city busses with 9-lite engines are expected to arrive during the first half of 2014. ACTION has just completed a delivery programme for 33 new articulated Scania buses, which would complement the 26 Scania 14.5-metre buses and 54 Scania CNG buses in the fleet.
The new buses will have a sitting capacity of 48 places, with additional 18 standees. The 12.5-metre city buses will be fitted with Australian designed bodies constructed by Custom, a national bus bodybuilder.
"The buses are clean, fuel-efficient, and most noticeably, they produce minimal harmful pollutants. They'll help keep Canberra's air clean and reduce pollution," says Shane Rattenbury, ACT Minister for Territory and Municipal Services.
"ACTION will be the first city bus operator in Australia to use these improved, greener buses. It's a small part of making Canberra a leader in both environmental and health outcomes," he says.
Scania is one of the world's largest manufacturers of buses and trucks for heavy transport applications, as well of industrial and marine engines. The company employs over 38,000 people in over 100 countries all over the world. R&D is mostly concentrated in Sweden, while production takes place in Europe and South America.