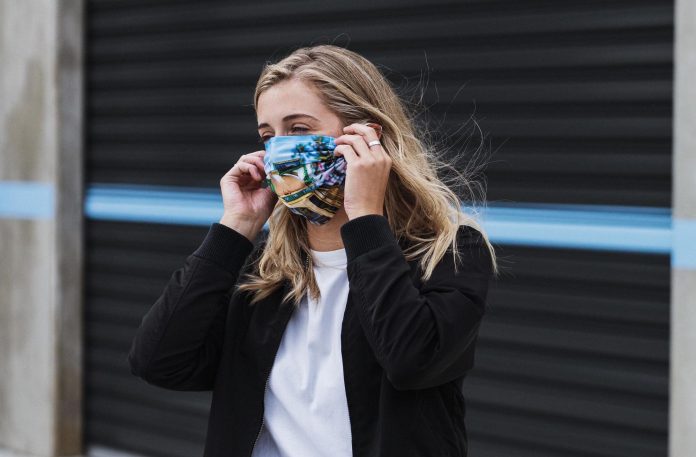 Melbourne-based face mask manufacturer AFI Branding has ramped up its production capabilities to help meet the surging demand for face masks.
This follows the announcement from Victoria's Department of Health and Human Services that it will now be mandatory in Metropolitan Melbourne and Mitchell Shire to wear face coverings in public to help reduce the spreading of COVID-19. As of 11:59 last night (July 22, Wednesday) residents in the said areas are now required to comply with the face masks rule. Non-compliance without a legitimate reason will result to a fine of $200.
AFI Branding Managing Director Glenn Watson said the orders for fabric face masks started flooding in within hours of Sunday's announcement and are showing no signs of slowing. The company has reported orders coming in for more than 20,000 masks over a 24-hour period. As one of Australia's largest manufacturer of fabric signages, AFI said they are also working with their usual clients to provide custom and branded face masks on a large scale.
"We're ramping up our production capabilities in order to service the high demand. We're well situated with an in-house sewing department, a range of fabric printers and despatch team. It's good to be able to offer a fully Australian made product with a reliable supply chain. It's great to be busy!" Mr. Watson told Australian Manufacturing.
AFI's masks are made of high grade, warp knit, 200gsm polyester fabric which is hard-wearing and machine washable. The masks are printed using the dye sublimation method that utilises water based ink. The fabric is then digitally cut on a grand format cutter. Each mask is then sewn by AFI's sewing team and packaged ready for despatch. The entire production process from design through to despatch happens at AFI's dedicated factory in Carrum Downs, Victoria.
AFI has experienced a steady flow of orders since launching its fabric face mask venture #heroeswearmasks back in April. The digital printing business saw a significant spike in its fabric mask sales when the recommendation for Victorians to wear masks outdoors was made a few weeks ago, only to be surpassed days later when Victorian Premier Daniel Andrews proclaimed it a mandatory requirement.
Earlier this month AFI has introduced a 3-layer option to its #heroeswearmasks collection, giving customers the choice between single ply and 3-ply masks. The company has also focused its efforts on pivoting its product offering to manufacturing hand sanitising stations. The move has seen considerable success and helped generate revenue at a time when many customers in the retail, events and exhibition space are not spending.
While there are professional and practical exemptions to mask wearing, the Victorian Government recommended that people must carry with them a face covering at all times to wear when they can. Mr. Watson said that although mask wearing remains a contentious issue, the reality of the situation sustains their production of the protective covering.
"For every person that supports the wearing of them, there's another that doesn't. The reality now is that no matter what your view, it'll be compulsory to wear one in lockdown area so we're here to fulfil that requirement for thousands of Victorians."
Visit the #heroeswearmasks website to shop the collection.
Image credit: AFI Branding