Takata, the Japanese auto parts supplier, has agreed to recall 33.8 million cars in the US that are equipped with the company's faulty air bag inflators.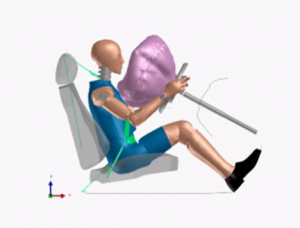 The recall – which is believed to be the largest auto recall in history – comes at the insistence of the US Department of Transportation (DOT) after it was determined that Takata's faulty air bag inflators were responsible for at least six deaths worldwide.
US Transportation Secretary Anthony Foxx said that the Department's National Highway Traffic Safety Administration (NHTSA) issued a Consent Order to Takata which requires the company to cooperate in all future regulatory actions that NHTSA undertakes in its ongoing investigation.
"Today is a major step forward for public safety. The Department of Transportation is taking the proactive steps necessary to ensure that defective inflators are replaced with safe ones as quickly as possible," Mr Fox said.
"We will not stop our work until every air bag is replaced."
According to the press release by NHTSA, the actions expand regional recalls of Takata passenger-side inflators, currently limited to areas of high absolute humidity, to nationwide recalls involving more than 16 million vehicles.
"They also expand the current nationwide recall of driver-side inflators to more than 17 million vehicles," reads the press release.
NHTSA Administrator Mark Rosekind said the remedy of vehicles will be prioritised based upon risk, with the vehicles that present the greatest risk in terms of age and geographic location to be serviced first.
"From the very beginning, our goal has been simple: a safe air bag in every vehicle," Mr Rosekind said.
"The steps we're taking today represent significant progress toward that goal. We all know that there is more work to do, for NHTSA, for the auto makers, for parts suppliers, and for consumers. But we are determined to get to our goal as rapidly as possible."
Shigehisa Takada, Chairman & CEO of Takata Corporation, said he was pleased to have reached the agreement with NHTSA to advance safety and restore "the trust of automakers and the driving public."
"We have worked extensively with NHTSA and our automaker customers over the past year to collect and analyse a multitude of testing data in an effort to support actions that work for all parties and, most importantly, advance driver safety," Mr Takada said in a press release.
"We are committed to continuing to work closely with NHTSA and our automaker customers to do everything we can to advance the safety of drivers."
Testing and investigation by Takata, auto manufacturers, and independent researchers have not yet established a definitive root cause of the inflator malfunctions, although NHTSA's analysis of test results and engineering reports from independent organisations points to moisture infiltrating the defective inflators over extended periods of time as a factor.
"Over time, that moisture causes changes in the structure of the chemical propellant that ignites when an air bag deploys. The degraded propellant ignites too quickly, producing excess pressure that causes the inflator to rupture and sends metal shards into the passenger cabin that can lead to serious injury or death," reads the NHTSA press release.
The US Department of Transportation said it had established a new website, http://www.safercar.gov/rs/index.htm, to provide regular updates on the status of the recall.