Premium AEROTEC, a subsidiary of Airbus Group, has awarded Mahindra Aerospace with a multi-year aero-components production contract that will see the subsidiary of Mahindra Group manufacture the excess of a million metallic components per annum.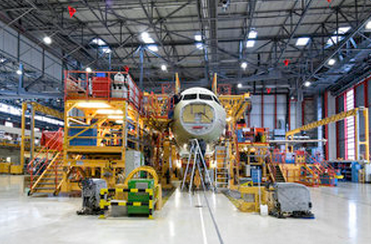 These parts – to be fitted into several Airbus aircraft programs as part of assemblies produced by Premium AEROTEC – will be manufactured at the new Mahindra Aerostructures facility located at Narsapura, India, with deliveries to Premium AEROTEC's facilities in Germany scheduled to commence this year.
According to the joint press release by Mahindra and Airbus, the contract is aligned with the Indian Government's "Make in India" initiative and validates the two Groups' commitment to "accelerate India's participation in the global aerospace industry" while simultaneously creating "high-growth opportunities" within the country's burgeoning aerospace and defence eco-system.
"When we began our aerospace journey in 2008, India had yet to establish a presence in the global aerospace supply chain," said Anand Mahindra, Chairman & Managing Director, Mahindra & Mahindra Ltd.
"We committed then to bridge that gap with our investments in aerospace manufacturing, and this new chapter in our relationship with Airbus attests to that commitment. This is our vision to take 'Make in India' from policy to reality: Build bridges across cultures, countries and businesses – enable each to focus on its core – and empower each other to Rise."
Dr Klaus Richter, Chief Procurement Officer, Airbus Group & Airbus, said the two companies were already global partners in the aerospace engineering domain with Tech Mahindra being one of the global E2S engineering services providers to the Airbus Group.
"This announcement marks a new milestone in our journey. By expanding our relationship from engineering to manufacturing, both of us are signalling our willingness to further strengthen our joint business relationship," Mr Richter added.