French multinational company Alstom has signed two contracts with Denmark's Burmeister & Wain Scandinavian Contractor (BWSC) for the supply of Geared Reaction steam turbines (GRT) for two UK biomass projects.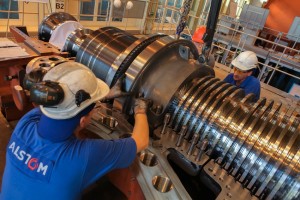 The first contract is for a 23MW GRT for a waste wood combined heat and power (CHP) biomass plant in Widnes, Merseyside, whereas the second contract is for a 50MW GRT for the Snetterton Biomass Plant, in East Anglia.
These contracts build on the successful collaboration between Alstom and BWSC in the UK, which saw them work together on the Lisahally CHP biomass plant in Northern Ireland in 2013 and the Brigg renewable energy plant in Lincolnshire in 2014.
"Alstom is delighted to be working with BWSC in the UK once again, having already built a close working relationship with them on the Lisahally and Brigg projects," said Daniel Wahler, VP of Industrial Steam Turbines.
According to the press release by Alstom, the project specific design, engineering and manufacturing will be done at one of its specialist facilities, with support offered by the UK team.
"The GRTs are preassembled as much as possible, as a result saving money and time during installation and commissioning. Alstom has optimised the GRT for efficient and flexible power production, covering renewable and traditional fuel types in addition to industrial applications for process steam," it says in the press release.
The Widnes plant is being developed by BWSC and UK logistics company Stobart Group. It is expected to become operational by the end of 2016 and to provide enough power to supply 35,000 homes a year, as well as supplying heat to Stobart's adjacent wood-drying facility.
The Snetterton plant is to be completed by early to mid-2017 and will produce enough energy to power up to 68,000 homes by burning energy crops such as straw, cereals and oilseed rape.