Global leader in protection solutions Ansell has announced the introduction of a new flexible glove – the HyFlex 11-926 – featuring two innovative Ansell technologies: RIPEL™ Liquid Repellence Technology and Ansell GRIP™ Technology.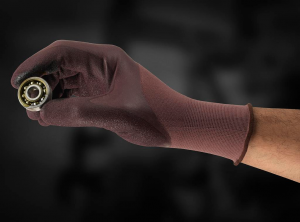 According to the company's press release, the new product is ideal for a number of industries, including automotive and auto OEM, electrical machinery, metal fabrication, power tools, and transportation equipment.
The RIPEL™ Liquid Repellence Technology prevents oil or lubricants from making even incidental contact with the wearer's skin, reducing the risk of skin irritation for improved hand health.
The Ansell GRIP™ Technology is a patented grip feature that wicks away oil and moisture from the surface of the glove, thus ensuring safer handling and secure grip.
"When we speak to workers in light oily environments about their needs, they consistently talk about discomfort with existing options and are seeking optimal control where oil is present," said Scott Corriveau, President and General Manager, Ansell Industrial Solutions Global Business Unit.
"We know that comfort and protection is vital for a safe, effective workplace and responding to workers' needs is central to our research and innovation."
Ansell launched its HyFlex brand in 1996. Since then, the brand has become the world's best-selling precision assembly glove.
The latest addition, the Ansell HyFlex 11-926 gloves are available in six sizes. With these revolutionary new gloves by Ansell, users can do their jobs safely and productively, without any irritation and discomfort.
For more information on HyFlex 11-926 or other products from the HyFlex glove line, go to http://www.ansell.com/en/Products/All/HyFlex-11-926.aspx.