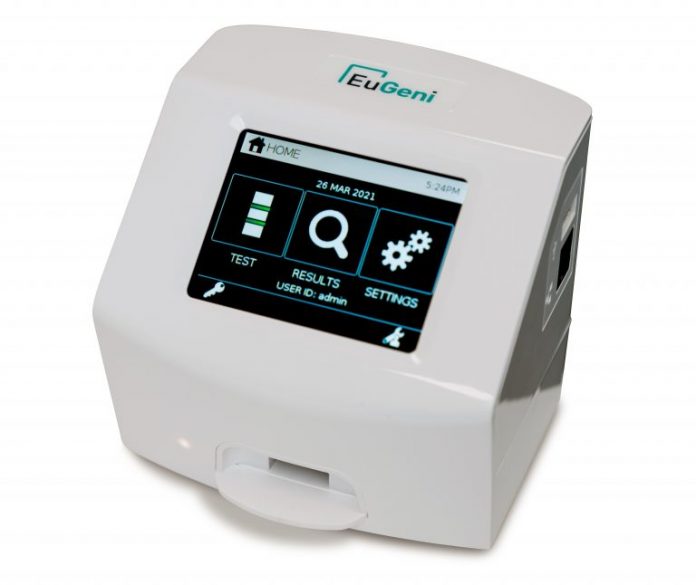 Life science and nano-scale surface chemistry company, AnteoTech, has won a crucial European accreditation for its innovative point-of-care COVID-19 antigen rapid test platform, EuGeni.
AnteoTech has received the Conformitè Europëenne (CE) Mark for EuGeni, which confirms that its 15-minute COVID-19 rapid test meets crucial health and safety conditions in Europe and the United Kingdom.
CEO Derek Thomson said the company was delighted to have achieved this significant milestone in its strategy to become a legal manufacturer of rapid tests.
"It is a transformative moment, the culmination of twelve months of intensive effort," Mr Thomson noted.
"CE Mark for the COVID-19 ART provides us with an opportunity to capture some of the large and growing European antigen rapid test market.
"We believe we have a superior test with high sensitivity and specificity based on our unique AnteoBind technology.
Queensland Premier Annastacia Palaszczuk said the development of AnteoTech's rapid COVID-19 test was supported with 1.4 million in funding from the Queensland Government.
"Earlier this year we committed $1.4 million to help AnteoTech to progress the COVID-19 rapid test from prototype through to product launch," the Premier said.
"Now AnteoTech is taking the pandemic fight to Europe.
"This is world leading technology being produced in Queensland and exported overseas."
Member for Toohey Peter Russo said that in addition to producing a large quantity of tests per week at its facility at Eight Mile Plains, the company would also collaborate with contract manufacturers to scale-up test kit production to meet increased demand to satisfy the Australian market.
"AnteoTech's next step is to gain approval from the Therapeutic Goods Administration to start manufacturing here and get Australians using this rapid-screening technology," he continued.
According to AnteoTech's statement, an official product launch for the EuGeni platform will be held in Brisbane, towards the end of April.
Image credit: https://www.anteotech.com/covid-19/