Victoria's Ararat Wind Farm has received its first shipment of GE turbine blades which will see Australia's third largest wind farm switch to its full employment capacity of 165 workers over the two-year development period.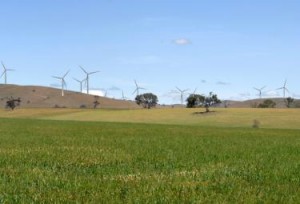 The Ararat Wind farm, which is powered by RES, Downer and GE, will be located on rural land located approximately 180km northwest of Melbourne and between 9km – 17km northeast of Ararat in Victoria.
Matt Rebbeck, COO of RES Australia, said the delivery marks an important milestone in the development of the project which will inject almost $8 million into the local economy.
"Today is a proud moment for RES Australia and the Ararat community and shows the result of our deep involvement and long term engagement over the last ten years," Mr Rebbeck said.
"We are particularly pleased to have The Victorian Premier, the Hon. Daniel Andrews officiate today's events demonstrating ongoing support for the Ararat Wind Farm project and renewable energy developments in the state of Victoria."
Geoff Culbert, CEO of GE Australia, New Zealand & PNG said the project has hit the half-way milestone in construction.
"The Ararat Wind Farm is proof that Australia's renewables industry creates investment and jobs, and drives economic benefit for local communities," Mr Culbert added.
"We're excited to also welcome the 165 workers from the local community who are so integral to the project's success."
Trevor Cohen, Executive Director, Downer Utilities, said that once complete, the Ararat Wind Farm will be a world class project that plays a key part in Australia's renewable energy future.
"The arrival of the blades marks the next phase of construction that will see work start on the installation of 75 wind turbines that will generate electricity to power around 120,000 homes per annum, or about six percent of Victorian households," Mr Cohen said.
"This is a great opportunity to continue our community engagement activities and provide an occasion that enables members of the public to observe first hand, the size and scale of equipment being installed at the wind farm."
Mr Stuart Liddell, Ararat Wind Farm's General Manager, said the integration with local community has been key to their success to date.
"This is a great opportunity to continue our community engagement activities and provide an occasion that enables members of the public to observe first hand, the size and scale of equipment being installed at the wind farm."