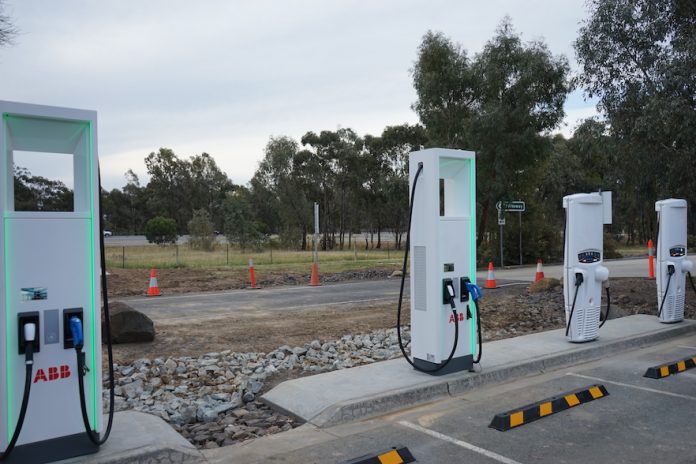 The Australian Renewable Energy Agency (ARENA) will provide $6 million in funding to Chargefox Pty Ltd to roll out Australia's first ultra-rapid charging network for EVs.
The project will see Chargefox roll out 21 charging sites on interstate highways across the east coast connecting major capital cities including Adelaide, Melbourne, Sydney, Canberra, Brisbane and separately north and south of Perth.
The first two charging sites, which are also receiving $1 million in funding from the Victorian Government, will be in Euroa in Victoria and in Barnawartha North just outside of Albury-Wodonga on the Victorian-NSW border.
Each site will feature two stations capable of a power output of 150 kW, with all the charging sites to be no more than 200 kilometres apart – well within the range of modern EVs.
ARENA CEO Darren Miller said the project was designed to encourage the uptake of EVs by reducing range anxiety.
"EV charging networks are being rolled out in other countries, and Australia needs to catch up to ensure that we can experience the same benefits of improved driving experience, lower operating costs, and better environmental outcomes that electric vehicles offer," he said.
"This will not only encourage more people to purchase EVs, but will also ensure that all charging is coming from renewable energy and provide a useful test case for charging EVs from remotely located, distributed renewable generation.
"Range anxiety is a key barrier to uptake of EVs in Australia, but this network will help alleviate that concern by giving motorists comfort they can travel long distances," he said.
Chargefox CEO Marty Andrews said the charging sites will allow public, open-access to all EV models currently sold in Australia.
"Chargefox is committed to sustainable mobility. Our network of ultra-rapid charging stations will play a significant part in improving the infrastructure of this country and remove one of the major barriers that limits the adoption of EVs," Mr Andrews said.
"The charging stations will enable all modern EV drivers to confidently drive between Australia's major cities."