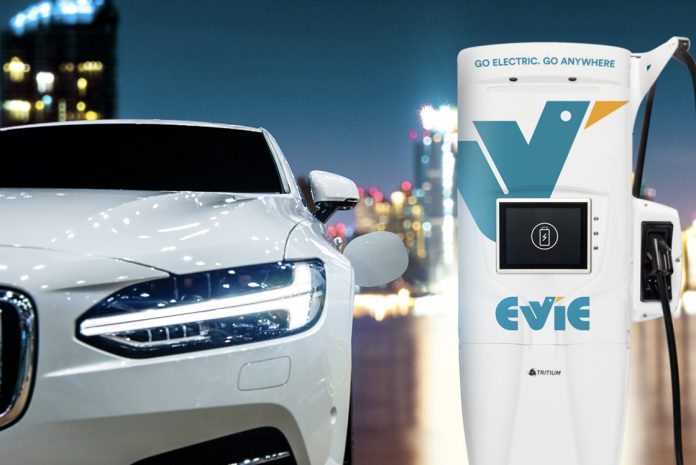 Evie Networks has secured $15 million in funding from the Australian Renewable Energy Agency (ARENA) to roll out the largest ultra fast battery electric vehicle (EV) charging network along Australia's highways.
The project will see Evie install 42 renewable energy-powered charging sites at roadside service centres connecting Adelaide, Melbourne, Canberra, Sydney and Brisbane, plus destination charging in Far North Queensland, Tasmania and Perth.
Each of the 42 sites will feature charging plugs suitable for all EV models available (including Tesla), and will able to charge two cars concurrently. A typical EV available in Australia will be able to charge 100 kilometres within 15 minutes using Tritium chargers.
ARENA CEO Darren Miller said the funding will support the first phase of the $50.2 million intercity highway charging network with 350 kW ultra fast chargers located along the 'National Land Transport Network' and beyond.
"Evie's fast charging stations across the country will help to increase the supply and adoption of electric vehicles by building the charging infrastructure in key areas along major roads," Mr Miller continued.
"Reducing range anxiety will encourage EV uptake by giving motorists confidence they can get where they want to go – even on long road trips."
He said the project will complement Chargefox's ARENA-backed ultra fast charging network, which will include 21 charging sites from Adelaide to Brisbane, around Perth and in Tasmania.
"Both networks will provide complementary coverage along major highways connecting capital cities, and both will be powered solely with renewable energy," Mr Miller conlcuded.
Evie Networks' CEO Chris Mills said on the first site north of Brisbane is already underway, with 23 sites to be operational in the first year.
"We have estimated that Australia needs around 350 sites to cover all the highways that make up Australia's National Land Transportation Network," he continued.
"While many consumers will charge at home, they will also need plenty of fast chargers in towns, suburbs and cities.
"There are currently around 6,500 petrol stations. This is just the beginning of the infrastructure build out."
Image credit: http://goevie.com.au