Last week, Australian shipbuilder ASC announced plans to cut 45 trade jobs from the Air Warfare Destroyer Project.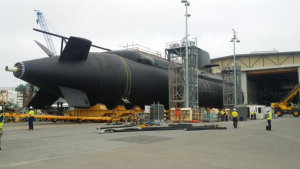 In a media release, the company said that it will reduce the number of boilermakers and welders at its Osborne shipbuilding facility, adding that further reductions are a real possibility.
"While ASC has seen contractors come and go in the normal peaks and troughs of shipbuilding activity, this is the first major reduction we have had to make to our permanent production workforce. It is never an easy decision, but ASC is obligated to do all it can to operate as a highly efficient, productive and competitive shipbuilding organisation," said ASC Shipbuilding Interim CEO, Mr Mark Lamarre.
"The reality is that ASC's workforce profile on the AWD Program has reached its peak and will now progressively decline as we head towards the end of the project and various trades complete their component of the build activity. Until the outcomes of the Competitive Evaluation Processes for the Future Frigate and Offshore Patrol Vessel projects are known, it is not possible to maintain the current number of employees on this project as work winds down."
After this disappointing development, the company announced a major milestone with the roll-out of HMAS Farncomb – the first Collins Class submarine.
The company said that its major service of HMAS Farncomb will cost 30% less than expected and will take only two years instead of three.
ASC Interim Chief Executive Officer Stuart Whiley said "thinking outside of the box" enabled them to achieve this significant milestone.
"We invested $12.3 million to build a maintenance support tower alongside the submarine to bring the people and materials closer to the boat in order to improve efficiency. We've cut the hull of the submarine completely in half, removed the main motor and diesels, tested and refurbished them off the boat before reinstalling them and rewelding the hull," he said.
"We've built a state of the art diesel generator test facility at Osborne, which has been used to test and validate the diesels off the boat, simulating real world service conditions.  This has reduced the risk to schedule later in the maintenance activity and improves the reliability of the submarine delivered to the Navy."
Minister for Defence Industries Martin Hamilton-Smith said ASC's workers should be congratulated for "this tremendous achievement in the face of an uncertain future."
"The launch is also further evidence of ASC's capability to build the Future Submarines and I again call upon the Commonwealth to stick to its promise to build all 12 submarines here in South Australia," the Minister said.