Austal Limited, the global defence prime contractor and a designer and manufacturer of defence and commercial ships, has announced that the second-in-series Cape Class Patrol Boat has been officially named Cape Byron.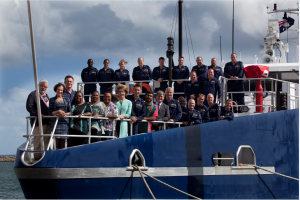 According to the media release by Austral, the naming ceremony of the second of eight boats that are being built by Austal for the Australian Customs and Border Protection Service (ACBPS) — under a design, construct and in-service support contract awarded in August 2011 — took place at the Austal's Henderson shipyard in Western Australia last Monday.
The Cape Class Patrol Boats will be able to undertake 28 day patrols; sail 4,000 nautical miles before having to refuel; combat the full range of maritime security threats; carry a larger crew to more effectively and safely manage boarding operations; identify, track and intercept an extended range of threats in the maritime domain and gather intelligence and store evidence for matters that may proceed to the courts; and launch two Tender Response Vessels simultaneously.
"Over the last 26 years, Austal has designed and manufactured 250 high quality vessels. The majority of them were designed and built here in Henderson. Each vessel has been an important ingredient of Austal's evolution to a Global Defence Prime Contractor, especially in developing and maintaining the intellectual property, design, manufacturing and sustainment capability that is now embodied in Cape Byron and indeed other vessels Austal is currently producing and sustaining across the world," said Austal President and General Manager, Graham Backhouse.
"As a highly sophisticated, state-of-the-art maritime asset, Cape Class is particularly special to Austal. As such today's official naming is certainly worthy of celebration. For the ACBPS, this magnificent new patrol boat class represents a significant step forward in performance and capability. It is an advancement which Austal is proud to be a major contributor towards. We are excited at the prospect of seeing Cape Byron, the result of a superb team effort between Austal and ACBPS, joining Cape St George in service to perform the important role they are designed to undertake. We are confident she will perform admirably for many years to come."
Senator Michaelia Cash, Assistant Minister for Immigration and Border Protection, as well as Her Excellency Professor the Honourable Marie Bashir, Governor of New South Wales — who officially named the vessel after Cape Byron in that state — attended the naming ceremony.
"These boats are specifically designed for their critical maritime law enforcement role. The increased size, improvements in surveillance technology, and patrolling range of the Cape Class will better support our dedicated marine unit officers to perform their challenging role," said Senator Cash.