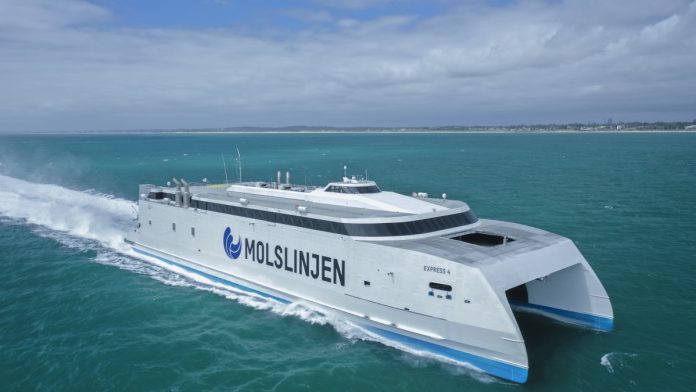 Austal has secured a A$136 million follow-up contract from Denmark's Molslinjen to design and construct a new 115-metre high-speed catamaran.
Featuring capacity for 1,610 passengers, space for 450 cars over 2 vehicle decks and an operating service speed close to 37 knots, the new Auto Express 115 will be the largest ferry by volume ever built by Austal and will be equipped with a new generation of medium speed engines that are LNG compatible.
Austal Chief Executive Officer David Singleton said the new order follows the delivery of a 109-metre passenger ferry to Molslinjen in January 2019, confirming Austal's continuing international competitiveness and leadership in high-speed ferry design, construction and technology.
"With this new order, Austal has once again demonstrated a clear capability to offer the best, most advanced high speed ferries, cost competitively, reliably and to the highest quality," Mr Singleton said.
"To be designed in Henderson over a 12 month period and then built at our state-of-the-art shipbuilding facility in Balamban in the Philippines, the catamaran will feature Austal's signature raked-bow and optimised hull form, and an LNG-capable medium-speed power plant that offers a powerful, yet economical and environmentally-friendly solution.
"Express 5 will provide Molslinjen with a truly exciting high speed craft that will deliver a unique customer experience."
Austal said work on the new vessel would commence in the third quarter of 2020, with delivery scheduled for early 2022.
Image credit: https://www.austal.com