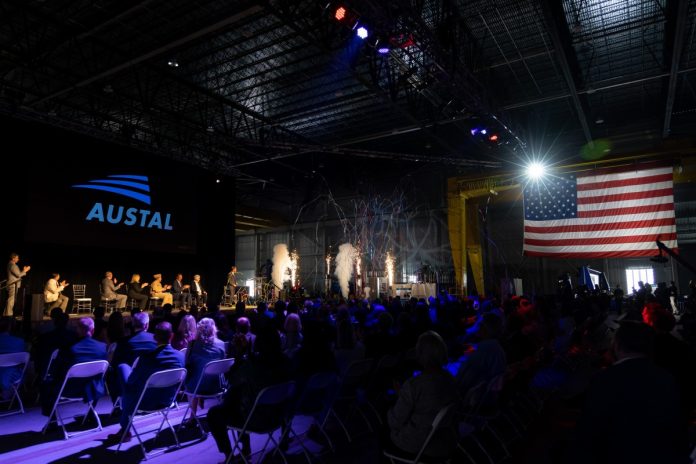 Austal USA has officially opened its new cutting-edge steel shipbuilding facility in Mobile, Alabama, which will enable the simultaneous production of both aluminium and steel hulled ships.
The new steel fabrication plant incorporates the most advanced computerized and robotic steel processing technology to meet the Navy's and Coast Guard's present and future demands.
A 6,000 square meter stock yard will be used to store raw steel, while a 2,000 square meter paint facility will allow for simultaneous painting and blasting in two separate cells.
According to Austal's statement, both cells can be combined to provide the ability to paint super-modules.
The first vessels to be manufactured in the new 11,000 square meter manufacturing facility will be two Navajo-class Towing, Salvage, and Rescue Ships (T-ATS) for the US Navy, which were placed under a US$144 million contract in October 2021.
Austal CEO Paddy Gregg said the opening of the new steel facility marked a significant development in Austal USA's shipbuilding capabilities.
"Austal USA is now ready to start constructing steel ships for the U.S. Navy, including the Navajo-class Towing, Salvage, and Rescue Ships (T-ATS) ships; and can offer this expanded shipbuilding capability to new customers such as the United States Coast Guard," Mr Gregg said.
"Our warmest congratulations go to Rusty Murdaugh and the entire Austal USA team after establishing this impressive new facility so quickly and efficiently."
A Defense Production Act (DPA) Title III Agreement between the United States Department of Defense and Austal USA helped finance the new steel shipbuilding plant.
The deal, which is worth $50 million, was confirmed in June 2020. Austal USA matched these expenditures and contributed an extra US$50 million to the steel plant's completion.
Image credit: https://www.austal.com/news/austal-usa-opens-us100-million-steel-shipbuilding-facility-mobile-alabama?fbclid=IwAR2fUoEJzf6CF1pJuP8y3KK0VZaeZIJQPrfEuDm-_r1e1rKudgn_vopwtTY