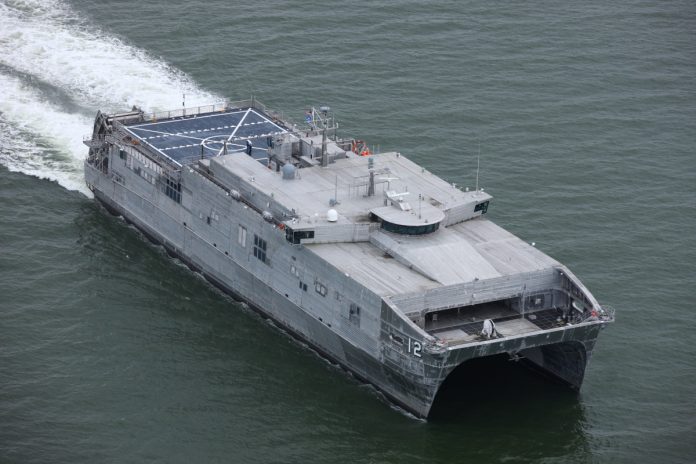 Austal has announced that the future USNS Newport (EPF 12) has successfully completed acceptance trials in the Gulf of Mexico.
Designed in Australia and constructed in Mobile, Alabama for the US Navy, USNS Newport is a 103-metre high-speed aluminium catamaran with a large, 1800 square metre cargo deck, medium-lift helicopter deck and seating for 300+ embarked troops.
The future USNS Newport will join a fleet of 11 EPF vessels that Austal delivered to the US Navy as part of the Expeditionary Fast Transport (T-EPF) program, under which the Australian shipbuilder is to deliver a further two EPF vessels.
Austal CEO David Singleton described the announcement as 'yet another important milestone' for the T-EPF program that has seen 11 vessels delivered to the US Navy in less than 8 years.
"Austal's EPF high-speed catamaran is a true success story, proving to be an invaluable addition to the US Navy's sealift capability worldwide," Mr Singleton said.
"Newport will soon join a fleet of 11 EPF vessels that are making a real difference to communities around the world, through a variety of missions and exercises conducted by US Military Sealift Command for the US Navy."
According to the company, the future USNS Apalachicola (EPF 13) is under construction at Austal USA's shipyard in Mobile, Alabama, while the future USNS Cody (EPF 14) is scheduled to commence construction in August 2020.
Image credit: https://www.austal.com/