The Commonwealth Government has sanctioned the acquisition of additional 58 F-35 Lightning II Joint Strike Fighter Aircraft (JSF) on top of the 14 aircraft it bought in 2009, bringing the total number of F-35 aircraft in the RAAF Squadron to 72 planes.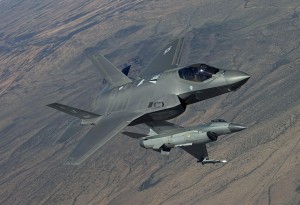 According to the media release by the Premier of Victoria, the move to acquire additional 58 F-35 aircraft would further boost Victoria's defence and aerospace manufacturing sector, which has secured 70% of JSF contracts awarded in Australia to date as part of the world's largest collaborative defence and aerospace program.
"Victorian expertise and innovation has positioned our local defence and aerospace manufacturing industry at the forefront of Australia's connection to the JSF program's global supply chain," Minister for Manufacturing David Hodgett said.
"Nine Victorian-based companies are contracted to deliver components and support to the JSF program on an ongoing basis, and a number of others completed contracts during the earlier production phases. This additional order of F-35 aircraft will help to create more high-skill, high-value manufacturing jobs across Melbourne and regional Victoria."
Victorian companies, which are part of the JSF program, are manufacturing products such as voice recognition software, cable assemblies, casting, countermeasure flares, tooling and engine components, airframe and system component machining, vertical tail assemblies, engine installation trailers and airframe tooling, actuators and optics.
Victorian precision engineering firm Marand has already delivered its first completed Victorian-made F-35 vertical tail assembly to BAE Systems and Lockheed Martin. The company is also manufacturing JSF engine installation trailers and F-35 airframe tooling in Victoria for Lockheed Martin as part of the US-led JSF program.
M Hodgett said the Victorian Coalition Government was fully committed to supporting local industry to further strengthen the state's unparalleled defence and aerospace manufacturing capabilities.