Equipment solutions company Snap-on Tools Australia has launched its latest innovative safety system designed to provide safe working conditions at heights.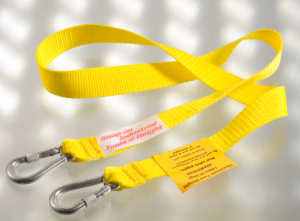 According to a media release, the 'Tools@Height' system was conceptualised by Snap-on to prevent tools from being dropped by oil workers into the North Sea. Now the system has been launched to various Australian industries such as mining, construction and aviation, to help reduce the risk of injury to workers due to tools being dropped.
The Tools@Height range includes Snap-on products that were designed specifically to be fastened to lanyards that can then be attached to an operator or a tether point.
Products such as Power-Safe are isolated from electrical currents and they also come with other improved features such as Lock-on safety sockets and Snap-coil weldless fittings. Lock-on safety sockets cannot be accidentally released so there is no chance of components injuring people. Meanwhile Snap-coil tool links have no welds to inspect or break, according to the company.
Other Tools@Height safety features include integrated hammerheads, lockable lanyard snap-hooks, bags, pouches and tool-keepers, prototypes and special tools, and an ISO 9001 quality management certification, among others.
Peter Marinovic, National Sales Manager of Snap-on Industrial Division, takes pride in the clientele of Tools@Height, and the fact that it is the only customised range of its kind in the Australian market.
"Tools@Height is already the tool of choice for many high-profile international customers including the likes of BP, Transocean, Dolphin and Balfour Beatty," said Mr. Marinovic.
"Tools@Height will assist a wide selection of local companies across a range of important industries to ensure their worksites and employees are properly protected in line with Work Health and Safety standards."
The Tools@Height range is fitted by Snap-on's technicians on site and comes with an extensive support package, including face-to-face product training and technical support.
More information can be found at http://www.snapontools.com.au/industrial