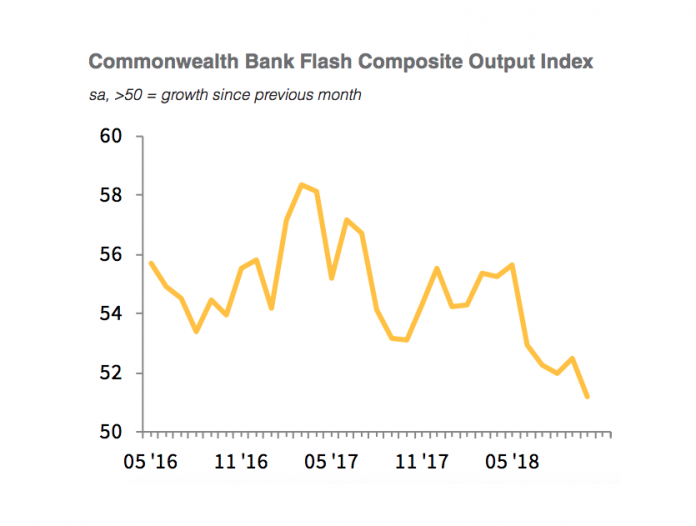 The latest Commonwealth Bank Flash Composite PMI has found that the manufacturing and service sectors have both experienced 'a further marginal decrease' in business activity in the final month of 2019 for only the second time since the surveys began in 2016.
The Flash Composite Output Index was down to 49.4 (from 49.7 in November), with the rate of growth in both services and manufacturing activity decreasing slightly in December (down from 49.5 to 49.7 and from 49.4 to 49.9 respectively).
According to the report, weakness was particularly evident at manufacturers, which saw the sharpest decline in the 44-month survey history in spite of continued new order growth.
"Falls in business activity were recorded in both the manufacturing and service sectors, with the pace of contraction sharper in the former," reads the report.
"In fact, manufacturing output declined to the greatest extent since the survey began in May 2016."
Commenting on the Commonwealth Bank Flash PMI data, CBA Chief Economist, Michael Blythe said the report indicates that the Australian economy ended the year on a 'softish' note.
"The RBA's "gentle turning point" for the economy remains elusive. And the weakness in private spending evident in the Q3 GDP data looks to have continued in Q4, with a flow on to labour demand as well," Mr Blythe said.
"There were also some early indications that the disruptions associated with the terrible bushfires around Sydney and elsewhere are having some impact.
"New orders continue to rise, however, indicating a degree of resilience in the domestic economy. The rise in new export business also indicates a degree of resilience to the sluggish global backdrop."
Image credit: www.commbank.com.au