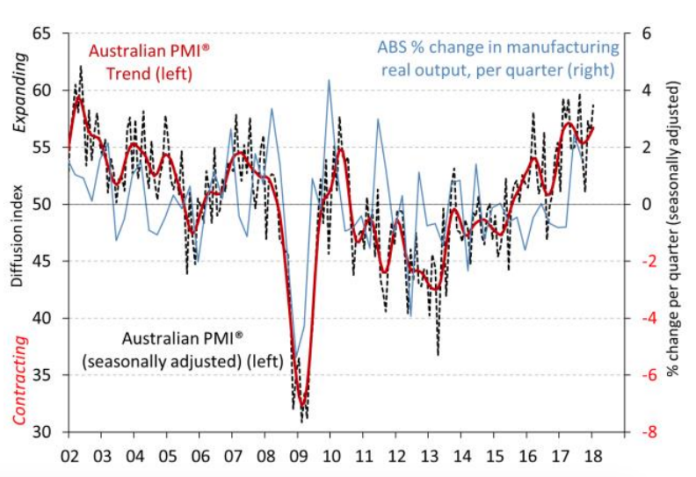 Australia's manufacturing sector has picked up where it left off in 2017, with the January PMI reading indicating faster growth than at the end of last year.
According to AI Group's latest survey, the Australian Performance of Manufacturing Index (Australian PMI) increased by 2.5 points to 58.7 in January, adding to the longest manufacturing expansion in more than a decade.
All seven activity sub-indexes in the Australian PMI expanded for the third consecutive month, with six further accelerating their pace of growth.
The report also found that five of the eight manufacturing sub-sectors expanded in January, led by the very large food & beverages sub-sector (61.4 points).
The petroleum, coal & chemicals sub-sector recorded its highest monthly result in almost a decade (67.9 points), while the textiles & clothing sub-sector plunged deeper in contractionary territory with its lowest monthly result in a similar timeframe (33.5 points).
The input prices (down 1.1 points to 69.7) and wages (down 1.1 points to 59.1) sub-indexes continued to fall from their highest ever results in November, while the selling prices sub-index indicated mild price reductions in January (down 4.2 points to 49.2).
Commenting on the January reading, Ai Group Chief Executive Innes Willox said although January marked a 16th month of expanding or stable conditions for the Australian PMI,  manufacturers continue to report difficulties accommodating recently elevated energy costs.
"While production and sales volumes were robust and employment also grew, the combination of cost pressures – notably energy costs – and strong competition in part due to the recent rise in the value of the Australian dollar, continued to keep margins tight and restrain wage rises," he said.
"Now is the opportunity for policy makers to reinforce the optimistic start to the year to secure further investment and employment gains in 2018."