Researchers at the University of New South Wales Australia and experts from the Australian car-sharing company GoGet are working together to develop an advanced autonomous driving algorithm that could result in a brand new type of self-driving cars within the next ten years.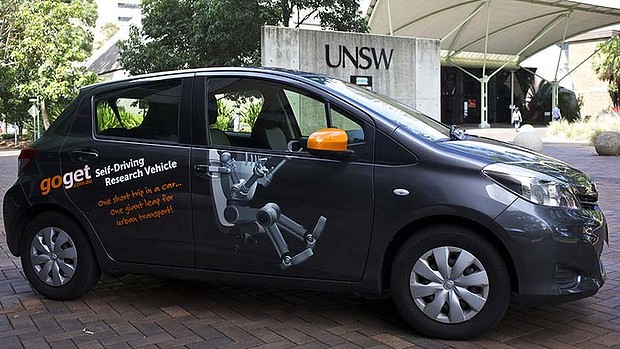 According to the news release by the University of NSW, the car, which is owned by GoGet, has been fitted with four radar sensors, a video camera and a small on-board computer.
The car was presented to the public at the GeoNext technology conference at the Australian Technology Park in Sydney which was held on Wednesday.
The project is an industry partnership between the UNSW Research Centre for Integrated Transport Innovation (rCITI) and GoGet.
rCITI's deputy director Vinayak Dixit said the $35,000 grant to buy the technology systems fitted to the vehicle was secured from the School of Civil and Environmental Engineering.
"We've put sensors all around the vehicle and mounted a video camera to detect pedestrians, bicycles, other cars and roadside infrastructure," Mr Dixit said.
"We're getting information about how people drive and how they interact with different moving entities as well as other infrastructure. This information is extremely useful when you're trying to develop algorithms for autonomous driving.
GoGet co-founder Nic Lowe, who is supplying the car for the study, said self-driving cars could be the future of car-sharing and "the future of all urban transport".
"I have a business objective to be the first fleet buyer of self-driving cars in Australia. It might be 10 years from now, it might be 20. I might be dead by the time it happens. But I think that it will change the face of the cities and transport and we want to be in front, not behind it," said Mr Lowe.
According to the article on The Age, the data collected by the sensors can also be used to explore the feasibility of real-time charging schemes for car insurance. The theory is that safe drivers would be rewarded by paying less for their insurance.
"What we really want to move towards is real-time insurance, where the driver's rates depend on how they drive at that moment," Dixit said.
Mr Lowe said GoGet was looking to reward safe drivers in the future.
"The area that we're focusing on is primarily insurance and identifying safe behaviour and rewarding it. We have the plan, we have the data, we [just] haven't implemented it yet," he said.
"We're obviously working through the implications of doing that and the privacy implications … [and] whether people will actually respond to being rewarded for being safe."