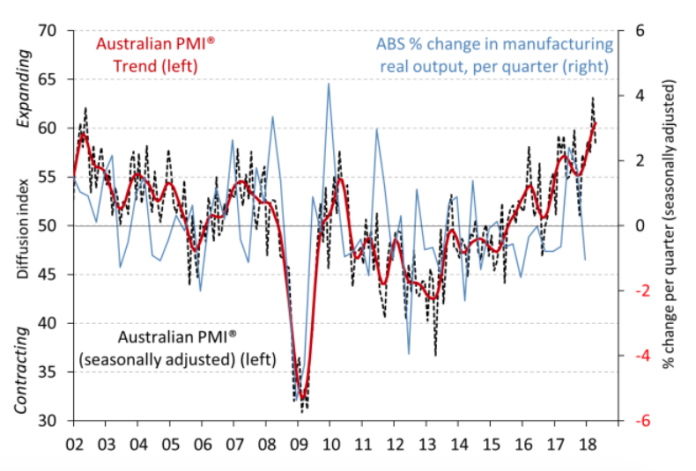 The Australian manufacturing sector has continued its expansion streak in April following March's record high result.
According to Ai Group's latest report, the Australian PMI slipped 4.8 points to 58.3 in April, indicating a slower – but still significant – expansion rate.
The slowdown has been reflected in five of the seven activity sub-indexes in the Australian PMI, all off which expanded in April albeit at a slower pace than in March.
New orders (down 5.0 points to 61.6), production (down 0.1 points to 62.1) and sales (down 1.4 points to 62.5) remained above the 60-points mark, indicating steady demand and a strong possibility for further near-term growth.
According to the report, six of the eight manufacturing sub-sectors also expanded in April, with petroleum, coal & chemicals (up 0.4 points to 67.6); metal products (up 1.6 points to 63.8); machinery & equipment (up 1.0 point to 61.2); and textiles, clothing & furniture (up 5.6 points to 57.1) all reaching record highs in trend terms.
Capacity utilisation dropped 1.3 percentage points to 79.9% in March,  indicating that some manufacturers will need to make further investments in technology and workforce  to satisfy the growth in demand.
The input prices and wages recorded a mild drop in April but remain elevated, with the selling prices sub-index up 5.3 points to 57.5 as some of these cost pressures are passed on to manufacturers' customer base.
Commenting on the readings, Ai Group Chief Executive Innes Willox said April marked a 19th consecutive month of expanding or stable conditions for the Australian PMI – the longest run of continuous expansion since 2005.
"The manufacturing sector extended its broad-based expansionary run in April. Growth was led by the machinery & equipment; metal products; coal, petroleum, chemical & rubber products; and non-metallic mineral product sub-sectors, all of which are enjoying strong demand from high levels of building and construction activity," Mr Willox continued.
"The largest manufacturing sub-sector – food & beverages – continued its long run of expansion. In a welcome sign, the diverse textiles, clothing, furniture & other products sector built on recent upward momentum. While the Australian PMI reading of 58.3 indicated a slower pace of expansion than March's record high, domestic sales, production, new orders and employment all built on recent gains."
"Respondents reported a slight drop in exports in April which warrants monitoring in the months ahead while energy costs and continued uncertainty over energy policy continue to be a major concern for many manufacturers."