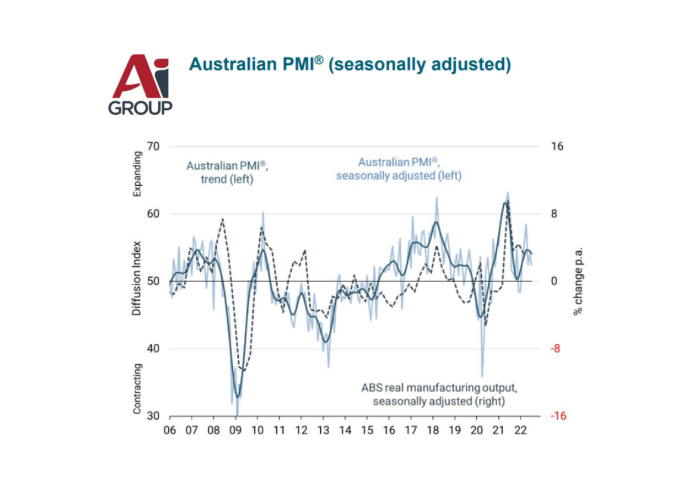 The Australian Industry Group's latest Australian Performance of Manufacturing Index (PMI) has shown a weaker rate of expansion compared to the industry's performance in June. 
July's PMI dropped by 1.5 points to 52.5. Readings above 50 points indicate expansion in activity, with higher results suggesting a faster rate of expansion, according to Ai Group. 
Innes Willox, chief executive of Ai Group, explained that aside from the supply and labour constraints faced by Australia's economy, production and employment both fell in July as manufacturing leaders experience chronic labour shortages and supply chain interruptions. 
"New orders rose this month, but our manufacturers simply can't meet this demand without more workers. Manufacturing has a key role to play in reducing the inflationary pressures facing Australia. To unlock the industry's full potential we need to promptly address skilled labour shortages," Willox added. 
The index for the machinery and equipment industry decreased by 8.6 points to 48.8, indicating contracting conditions in July. 
Meanwhile, strong domestic building enhanced activity levels for metals manufacturers, with the industry reporting an index recovery of 10.4 points to 51.1. Some businesses noted that forecasts for lower material prices in six to eight months pushed some customers to slow down their expenditure. 
High energy prices and labour shortages caused operational challenges for some manufacturers in the building materials sector, on top of adverse weather conditions impacting demand. 
The textiles, clothing, footwear, paper, and printing products sector remains strong despite a significant drop of 7.8 in its index, to 59.4 points. The latest score comes as the industry adjusts from its recent peak in June. 
Overall input prices declined for the first time since February 2022 but remain at very high levels.