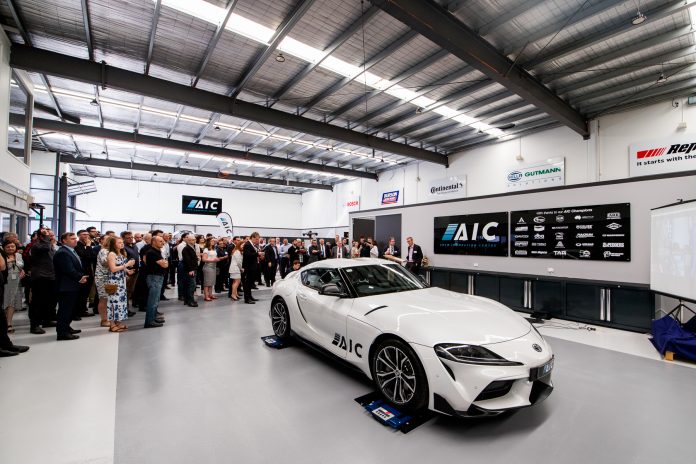 Media Release
EVOK3D is proud to be working with the Auto Innovation Centre (AIC) as part of the new HP 580 installation in December 2019, enabling the Auto industry to quickly and economically produce full colour functional prototypes in durable Nylon.
Senator Rex Patrick cut the ribbon to open the AIC facility and spoke how the facility will support the Australian automotive and manufacturing sector and aftermarket companies contributing in a meaningful way to the Australian economy.
The establishment of two Auto Innovation Centres, in Victoria and South Australia, has been a highly anticipated addition to support automotive parts manufacturing in Australia. The state-of-the-art facility in Mulgrave, Melbourne will assist Australian manufacturers in continuing to develop their world-class products.
Joining the Senator in welcoming those in attendance and speaking of the vision of the AIC was Luke Truskinger, AIC Managing Director, and Stuart Charity, CEO of the Australian Automotive Aftermarket Association.  "With thanks to both the Federal and Victorian Governments, their investment has assisted in bringing this incredible facility to reality, and now it is up and running it will enable the industry to utilise the technologies, services and training and development opportunities for their direct benefit."
The Centre of Excellence will be a Hub for automotive training and education, playing a key role in inspiring the next generation of automotive industry workers. There are multiple meeting and training rooms open to industry to book and utilise within the facility, with a dedicated 100-person capacity training room overlooking the AIC workshop space. The AIC offers the perfect venue to ensure industry personnel can maximise their potential.
"This is a fantastic new facility for the industry, so we welcome companies contacting us to discuss how the centre can directly assist their business," said Luke Truskinger, AIC Managing Director.
Another welcome development for the industry was the recent announcement by the Hon. Karen Andrews, Federal Minister for Industry, Science and Technology of a second round of Automotive Innovation Lab Access Grants for companies in the automotive industry.  For more information and applications, lead to www.business.gov.au/AILAG before they close on 24 February 2020.
Image Provided