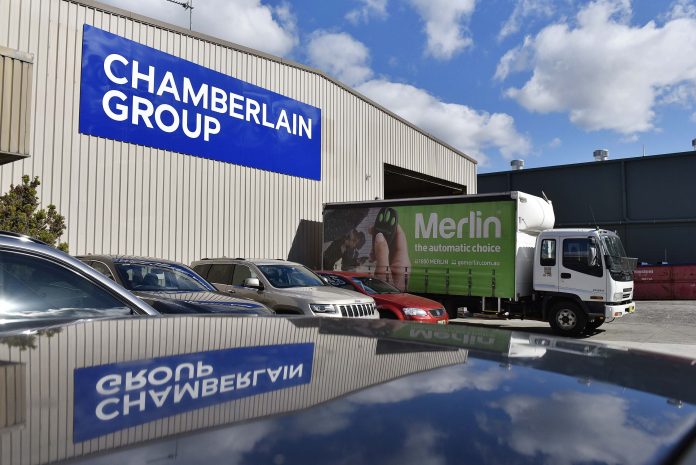 Article by Phaedra Pym, A Way With Words
Central Coast Industry Connect are thrilled to announce that the Chamberlain Group, the world's largest manufacturer of automatic garage door openers, will showcase their market leading products, award-winning manufacturing capabilities, sustainability initiatives and career pathways at the inaugural Central Coast Industry Festival Expo to be held from 1st – 3rd Sept 2022.
The festival is an initiative of Central Coast Industry Connect, a not-for-profit industry organisation for the advanced manufacturing and food / drink production sectors on the NSW Central Coast. 
Who is Chamberlain?
Chamberlain Group is a global leader in smart access solutions for the residential and commercial sectors. Their manufacturing facility in West Gosford, operated by a team of 40, is the Australian success story behind recognisable brands like Merlin®, LiftMaster® and Grifco®. Sydney's Anzac Bridge, Perth's Optus Stadium and Melbourne's Tullamarine Airport are high profile Australian examples of structures or facilities in which Grifco motors are installed, products designed and manufactured by Chamberlain right here on the Central Coast. The West Gosford engineering team is also responsible for designing Chamberlain's product range for a global market. In October 2021, Chamberlain won the Excellence in Export and Global Supply Chain Award at the Hunter Manufacturing Awards. In the same year, they also received an international design award for one of their products.
No strangers to accolades, Chamberlain was named Manufacturer of the Year at the Hunter Manufacturing Awards in 2019. Head of Operations – Oceania, Graeme Sheekey, says collaboration and embarking on a lean manufacturing journey have been critical to their success. "In 2017, we set ourselves a goal to be globally competitive and produce world-class products. That's when we commenced our continuous improvement lean journey, which established the foundation for the work we do at the Gosford factory. As part of that journey, we joined Central Coast Industry Connect, and they helped connect us with other local manufacturers. We learnt so much from visiting their facilities and then customising what they do for our operations." Since winning the Manufacturer of the Year award, Chamberlain has had an open-door policy, inviting other manufacturers to learn from them as they embark on their own lean journeys.
What is the Central Coast Industry Festival?
The Central Coast Industry Festival is jointly funded by the Commonwealth and NSW Governments under their disaster recovery funding arrangements. Its purpose is to support Central Coast businesses involved in manufacturing and food / drink production to rebound from the challenges stemming from the impact of bushfires, floods and COVID-19 and build resilience against future disruption.
Held over two weeks from 22nd August 2022, the festival will deliver a program of free events for attendees, including industry-relevant capability building workshops and guest speaker sessions. The festival will culminate in a three-day Industry Expo that will bring leading manufacturers like Chamberlain and related businesses together to strengthen local networks, identify business development opportunities and promote manufacturing career pathways to local student and parents. 
Graeme says, "During COVID, we all faced product shortages from overseas supply chain issues and skill shortages. While some businesses took a massive hit, others, like ours, grew and improved. Overall, manufacturing fared reasonably well. I think festival visitors will be surprised to discover how advanced manufacturing is on the Central Coast and how good everyone is at doing what they do."
How can Central Coast businesses become more resilient in the face of future challenges?
Graeme says their number one resilience-building strategy at Chamberlain centres on people, specifically, building and maintaining a stable team. While turnover is low at the West Gosford facility, recruiting new people has been a challenge in the last few years. To counter this, they started focusing on developing skills in-house through apprenticeships in 2018. Chamberlain will be showcasing the skills of their existing apprentices on day 2 of the expo, which will bring industry, schools and universities together to highlight the variety of careers on offer within the advanced manufacturing, food, beverage and agriculture sectors. In addition to exhibiting at the festival, Chamberlain hosts factory visits for schools to encourage more students to consider advanced manufacturing as a career path.
Graeme says another opportunity to develop resilience and future proof a business is sustainability. Chamberlain is on track to become a zero-waste facility at West Gosford by 2025. He says an added advantage of this initiative is that it makes them more attractive to the younger generation as an employer of choice. 
A third key resilience-building opportunity for businesses, in Graeme's view, is collaboration. He says, "The Central Coast Industry Festival is a great opportunity for Central Coast manufacturers to collaborate and showcase what we do. Chamberlain Group really wanted to be a part of that because we want to give back as much as we can by sharing our journey and the work we do with other manufacturers and the broader community."
The Central Coast Industry Festival and Expo will be held at Mingara Recreation Club, Tumbi Umbi from August 22 to September 3. To learn more about the festival and expo or express interest in being an exhibitor, contact festival organiser Alex Blow at alex@centralcoastfoodalliance.com.au.
Image supplied: chamberlaingroup.com