At a time when many Australian businesses are giving in to the decision to shift their manufacturing offshore, Don Pulver of Eniquest, winner of the National 2013 Telstra Micro Business Award, remained steadfast in his resolve to keep his products Australian made.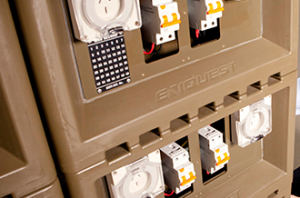 Eniquest's first product was a highly efficient DC diesel generator that produced power that could be stored in batteries. While the product was good, it posed challenges with its steep price and immobility. The company needed to achieve higher sales volume to sustain the business and repay their development costs, explains Mr. Pulver in a feature on Smarter Business Ideas.
The business' break came when it was listed to sell spares to the Australian Defence Force (ADF) for their in-service generators. Eniquest went on to secure a big contract to provide a Field Power Distribution Box to the ADF, and with word-of-mouth from satisfied customers, made a name for itself in the industry.
"People began to realise that Eniquest had skills to manufacture specialised power generator plants that they were unable to source elsewhere," said Pulver.
"We are so proud that we have found a way to manufacture great products in Australia. We are proud to support the Australian Defence Forces with world-class field equipment. We are proud to be able to provide a better solution for power plants for remote area residences… All of this from a small business on the Sunshine Coast."
Aside from the ADF Eniquest also provides Solar and Diesel Hybrid Power Skids for BHP and supply independent power for Toll Australia's Rapid Deployment Camps.
Mr. Pulver says he felt the need to stay manufacturing in Australia in order to provide jobs.
"I felt a need to give something back – a need to provide real jobs. I had the electrical and engineering skills to develop a unique product that could be manufactured in Australia. I invested everything I owned into research and development. It was a huge risk at my stage of life. There was no chance of recovery if I failed," he said.
Will Irving, group managing director of Telstra Business and the Telstra Business Awards ambassador, called Eniquest a "standout" in the Telstra Business Awards.
"The judges noted that Eniquest was a standout, particularly its commitment to being an Australian manufacturer using local components at a time when local manufacturing is contracting," Mr. Irving said.
"The business also has significant export opportunities as it is creating and manufacturing solutions that nobody else can do."