RMIT University PhD researcher Aaron Belbasis was awarded third place at the 2013 Sport Tech Investment Pitching Competition for his project "Smart Apparel – Sensorless Muscle Management and Injury Prevention", reports RMIT.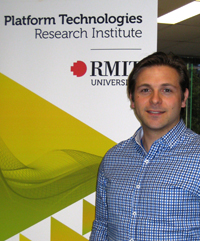 Mr. Belbasis was the only representative from the University to make the finals and lined up against organisations already selling products. The award winning project is part of his PhD research in the School of Aerospace, Mechanical and Manufacturing Engineering.
The event is organized and sponsored by the Australian Sports Technology Network (ASTN) with the purpose of discovering new sports technologies and assisting entrepreneurs to commercialise ideas and start-up businesses.
Mr. Belbasis was also presented with a chance to introduce his "Smart Apparel" concept to a major Australian sporting team in order to arrange field trials of his invention.
He said that his research stems from investigating structural properties of cancellous bone (the spongy bone tissue that forms at the end of the bones) and the use of conductive materials to monitor changes in force.
"Aligning my PhD research with industry projects has allowed the integration of intelligent sensors within numerous sporting environments, from instrumented gym floors and equipment, to smart boxing gloves and sporting apparel," he said.
"My goal is to develop material technologies that dispel the limitations of complexity and fragility within current systems, and replace it with an intelligent technology."
"The Smart Apparel project aims to enable sensorless monitoring to be built into textiles, developing innovative clothing that helps prevent injuries – something essential for both professional athletes and sporting enthusiasts."
Professor Franz Konstantin Fuss, who is Mr. Belbasis' PhD supervisor, won the 2nd prize in last year's competition.
"I congratulate Aaron on his outstanding success and achievements!" Professor Fuss said.
"Just imagine, at this year's competition, along came an RMIT PhD student who challenged and defeated established companies at their own game."
"I am proud of Aaron – his project is representative of innovative technology and he received positive feedback on both its development and future commercial potential."