BetaSwage, a Victorian manufacturing firm and a leading producer of hose assembly equipment for the mining and manufacturing industry in Australia and internationally, has released a new product range that is set to improve efficiency and quality, while reducing machinery maintenance costs and risk to operators.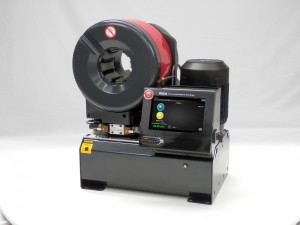 "BetaSwage is leading the way with advanced technology that is revolutionising the hose fitting and assembly industry for the mining and manufacturing sector. Our machines are used by major hose and fitting manufacturers that export across the world to industry leaders in mining, construction, forestry, utility, material handling, machine tools, moulding, power generation, primary metals, and the oil and gas industry," said BetaSwage Managing Director, Fred Van Essen in a media release.
"The new 2015/16 range of machines is more powerful than typical Hydraulic Hose Crimpers. We have developed the first machine capable of actually measuring the final Crimp Dimension before releasing the product, and detecting if a hose has been inserted incorrectly into the coupling. Combined with Auto Indexing features and Indexing Shoe Cluster for auto-lubrication, the improvements in productivity from a BetaSwage press are second to none."
The nominal 2" BS350/400C and the nominal 14" BS1400/400C are part of the company's new range of products.
"Our new machines are able to crimp 2 ½" and 3" MultiSpiral hydraulic hoses, and have a small enough footprint to be located on site. With advancements in technology, the BS350/400C delivers Android Wi-Fi connectivity, making it extremely operator friendly," said Mr Van Essen.
"We are constantly innovating to create smarter, safer machinery. Our products not only save our clients money, but time – resulting in increased productivity while simultaneously reducing risk to the operators, and providing absolute confidence that the assembly will achieve the manufacturer's specifications."
The company also announced that it is expanding exports to Gates Hydraulics in North America and booming industries across South East Asia.
For more information on the BetaSwage product range and technology, visit www.betaswage.com