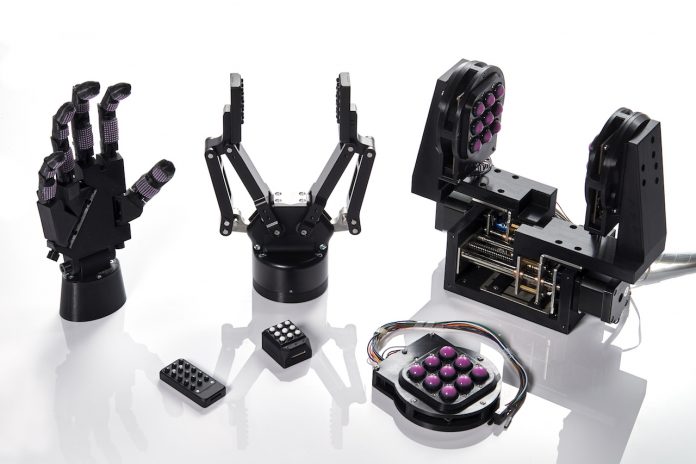 Media Release
A bio-inspired tactile sensor technology created by Sydney-based start-up Contactile equips robotic gripping systems with the sensory advantages of human hands, enabling robots to sense friction.
Dr Heba Khamis, one of the three co-founders of Contactile, says the technology enables robots to sense the emergent properties of objects such as slipperiness in real-time.
"Humans have thousands of receptors in the skin of our fingers that give us a huge amount of information about what we're touching and how we should interact with it," Dr Khamis says.
"Our [sense of touch] enables us to pick up an egg without breaking it, and then we can immediately operate a heavy tool like an axe."
"Robots don't have this sense of touch. So they have to be pre-programmed for every single object that they interact with. Our sensor enables robots to perform as dextrously as humans do."
Contactile's tactile sensor array is made of individual soft silicone sensing elements that each measure three-dimensional force and three-dimensional deflection with high frequency and precision.
"Most touch-based sensors that are used in robotics are either 3D force/torque sensors or pressure sensor arrays," says Dr Khamis. "These sensors can tell how hard the robot is gripping, but can't determine how hard the robot needs to be gripping."
"Our technology fills this gap as our sensor measures all the properties of the [object] and enables the [robot] to pick up the object as required."
The sensor can be easily retrofitted onto conventional robotic grippers. The sensing solution can be tailored for any industry that requires automation of material handling from pharmaceuticals and food processing to heavy industries.
The technology especially provides a competitive advantage for businesses that require highly intelligent robots to safely perform material handling in changing circumstances and interact with a range of different products.
"Current automation systems are basically optimised for what's called high volume tasks, something we're going to need to do millions of times. What they don't do very well is tasks that require flexibility," says Dr Khamis.
"Small and Medium Enterprises that do manufacturing or provide a service that requires material handling haven't been able to make full use of automation because they require this flexibility."
"Contactile enables automation in these areas where it hasn't traditionally been able to operate."
Contactile is one of the seven start-up companies selected to participate in UNSW Founders 10x Accelerator 2020. UNSW Founders 10x Accelerator program is created for high potential start-ups founded by the UNSW community.
The NSW Smart Sensing Network (NSSN) is a consortium of eight leading universities across NSW and the ACT including UNSW. The NSSN brings together academia, industry and government to develop smart sensing solutions to solve complicated challenges. The NSSN creates a single point of contact for industry partners who wish to engage with universities for R&D.
Co-founders of Contactile, Dr Heba Khamis, Benjamin Xia and Dr Stephen Redmond collaborated on a research project at UNSW Sydney that resulted in the development of Contactile's technology.
"As inventors of this technology, we are passionate about seeing it deployed in the real world," says Dr Khamis.
The team have created development kits for businesses that wish to test the technology in pilot projects. The development kits consist of two sensors, the software and all the peripheral hardware that is required for running the sensors.
Image: supplied