Boeing has announced that the 100th Growler, also known as EA-18G — a derivative of the F/A-18F Super Hornet — has rolled off the assembly line and has been delivered to the US Navy.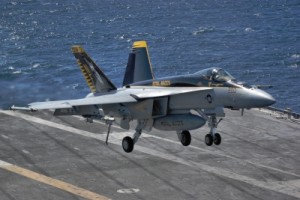 According to the media release by Boeing [NYSE: BA], the 100th delivery of the EA-18G marks a significant milestone in the program that has completely transformed airborne electronic warfare capability for the US and its allies.
"Given the threat environment we are moving into, the Growler will play a major role in identifying, tracking, targeting and potentially firing upon the enemy. The EA-18G Growler is a high-demand asset that is equally critical in disrupting our enemies operations as it is enhancing our own," said Capt. Frank Morley, US Navy F/A-18 and EA-18G Program Manager, during the delivery ceremony held in St Louis on Monday.
"Today we celebrated 100 Growler deliveries — all on cost and on schedule — and highlighted the need for additional Growlers in the future so our men and women in uniform can prosecute their missions in the safest, most effective way possible. We believe there is a compelling case to be made that the Navy needs 50 to 100 more aircraft to meet future requirements," said Mike Gibbons, F/A-18 and EA-18G Programs Vice President.
An article on Australian Aviation, reveals that if Congress does not approve another 22 Growlers to be added to the US Navy, as per its request for Fiscal Year 2015, the company expects production to end in 2016.
Both Boeing and the US Navy are currently lobbying for the addition of these 22 Growlers.
The production of the Growler and the Super Hornet supports 60,000 American jobs and accounts for $3 billion in annual economic impact.
For more information on the Growler, visit Boeing's official website,  www.SupportGrowler.com