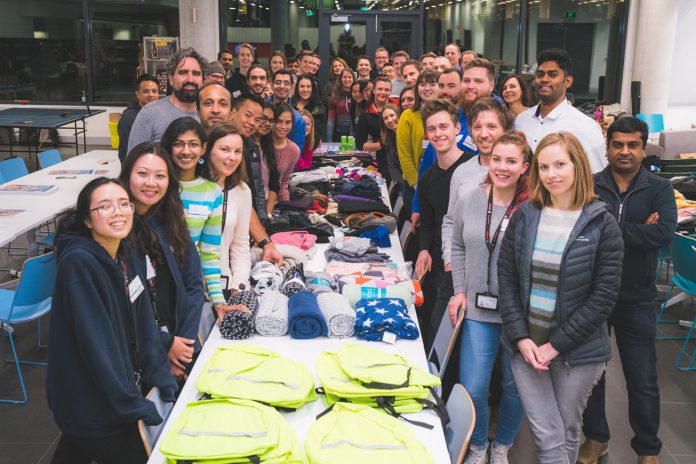 Media Release
Bosch Australia sleeping rough to make a difference to those experiencing homelessness.
Last night Bosch Australia hosted their seventh consecutive community sleepout and awareness campaign aimed at encouraging employees to participate, volunteer, donate and raise funds to prevent homelessness.
As part of the campaign, over 40 Bosch employees, including Bosch Australia President Gavin Smith, slept outside at the Clayton headquarters on cardboard to experience a cold night sleeping rough.
So far, over $30,000 has been raised and will go directly to the St Vincent de Paul Society programs that support people at risk of, or experiencing, homelessness.
Gavin Smith has participated in his fourth Bosch Australia sleepout and in seven past Vinnies CEO sleepouts.
This year, as part of the community sleepout, for each meal consumed an identical one was given to a local women's refuge for domestic violence survivors. The social enterprise Two Good Co. launched the 'Eat one, treat one' model in 2015, and are dedicated to restoring a sense of self-worth in women. Two Good Co. also provides the women living in participating refuges with hospitality training that helps them rebuild their lives and re-enter the workforce.
Bosch Australia undertook various fundraising efforts throughout the lead-up to the community sleepout. They implemented a clothing donation campaign, and organised raffles and silent auctions.
Homelessness is a key community impact theme for Bosch Australia and its employees have raised over $200,000 for St Vincent de Paul Society Victoria over the past 7 years. More than 116,000 people sleep rough in Australia each night.
Bosch Australia offers all employees the opportunity to support organisations in need of help by donating eight hours of their working time each year to a worthy cause.
Quotes attributable to Bosch Australia President, Gavin Smith:
"To learn that approximately 24,000 people in Melbourne sleep on our streets without a roof over their heads is shocking."
"By being involved in the sleepout here at Bosch, it gives a real sense of gratitude and understanding that we need to raise awareness of the serious issue of homelessness."
"It's sobering to hear the individual stories of hardship from those that were homeless not that long ago. It is time to change the openness around this issue. This could happen to me or to my friends and family. Homelessness doesn't discriminate."
Image credit: Image provided