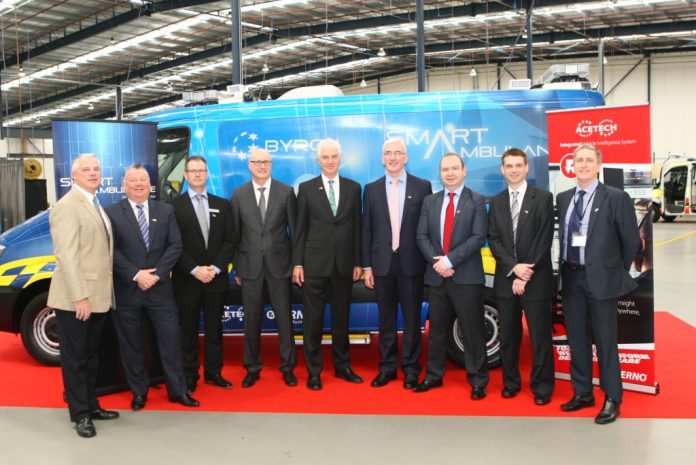 Australia's leading ambulance manufacturer Bayron Group has joined forces with emergency care solutions provider Ferno to create a world-leading ambulance that will transmit real-time information about patients to hospital emergency.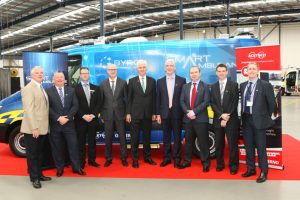 The Smart Ambulance was unveiled last week at a technology forum at Byron's Smithfield plant in Sydney, which was attended by representatives of ambulance services from NSW, Victoria, Queensland, the ACT, WA, SA, NT, Tasmania, Vietnam, Canada, the UK, New Zealand, the United Arab Emirates and Ireland.
Byron's CEO Glen Walker said the Smart Ambulance was designed to provide a safer working environment for paramedics, more efficient fleet management for ambulance services and improved communications about patient conditions with hospitals.
He said latest innovations in ambulance engineering will have a profound impact on improving patient care in medical emergencies.
"Hospital emergency departments will be able to track changes in the patient's condition in real time like never before. The ambulance will transmit the patient's vital information such as ECG readings and cameras inside the ambulance will enable the hospital to view the patient while in transit," Mr Walker stated.
"When the ambulance arrives at the hospital, they will already know the patient's condition. The improved data flow between the ambulance in transit and the hospital will save valuable time in the triage process where seconds are critical."
The Smart Ambulance features in-vehicle technology that improves patient experience, paramedic safety and fleet management.
This advanced technology includes Ferno's iNX Integrated Patient Transfer and Loading System™, Ferno's iNTRAXX™ Integrated Vehicle Component System™, and the company's ACETECH Integrated Vehicle Intelligence System™.
Mr Walker said the design of the Smart Ambulance was tailored to ensure the wellbeing of both paramedics and patients.
"Ferno's vehicle component system is designed to secure loose equipment inside the ambulance through track-mounted, magnetic pouches containing supplies and equipment. This allows paramedics to deliver patient care from a seated, restrained position, reducing the risk of injury from standing up in a moving vehicle to access supplies," Mr Walker added.
"The Smart Ambulance will have a duress system activation accessible from anywhere in the vehicle or by the paramedic's personal device that activates 360 degree digital video recording, in-car voice warnings, and distress texts to multiple agencies with vehicle identification and location. The vehicle itself becomes a safe haven for ambulance officers as the Smart Ambulance is also fitted with security entry glass."
Joe Bourgraf, US-based President and CEO at Ferno, said the Smart Ambulance was at the "cutting edge globally" of on-board vehicle intelligence, patient care and safety standards for paramedics.
"It provides a highly flexible and modular system that can fit any vehicle type and size and can meet many different operating environments such as accident scenes, fires and other emergencies," he added.
"Both Ferno and Byron are leaders in the emergency medical services market. Together we are setting new standards in innovation and technology."