Is one of your feet bigger than the other? Your problem with shoes that never fit could be resolved soon.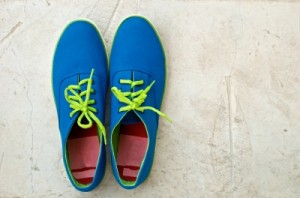 San Diego start-up Feetz is developing a way to offer their customers customised footwear through 3D printing.
"We started this company because we were tired of having to try on 10 pairs of shoes to find 1 good fit," said Feetz on their website.
"You might be the same, and if you have 'problem' feet then it just gets worse with a lot of time and money needed to get a good fitting pair of shoes."
According to a report on CNBC, the plan of Feetz is to have customers take pictures of their feet from three different angles. The images would be sent to Feetz which would then enter the images into specialised software that would allow a shoe for each foot to be printed. Customers can expect their printed shoes in seven days.
"We combined our expertise in technology, science, and engineering to create our SizeMe imaging process….so you get a perfect fit shoe for each foot. Then we utilize new materials and 3D manufacturing processes to make that pair of SizeMe shoes."
Feetz CEO and co-founder Lucy Beard said shoemaking is perfect for 3D printing technology because it allows for extreme customization.
"So many people have problems because one foot is bigger than the other or the shoes just don't fit right," Ms Beard said at the Inside 3-D Printing Conference in New York.
"But if you print a shoe just for that foot, it's going to be so comfortable, you're not going to want to take it off."
Mr Beard hopes to address the problem of people suffering from orthopedic problems  who constantly have to deal with pain.
"I want to solve that need and that pain for those people," she said. "Three-D-printing shoes for them is really a simple solution that could solve a lot of their problems."
She also believes 3D printing of shoes boosts manufacturing in countries which have moved their production offshore.
"It is great for the manufacturing industry – especially for 1st world countries to revitalize an industry long sent over to cheaper labor countries abroad," Ms Beard told Australian Manufacturing.
She said there is already a lot of progress in the industry, but it's still at its early stages. Nike has started using a 3-D system to create the cleat for its Flyknit shoes which was introduced early last year.
"There are more materials to print with, but we're still limited," she said.
Beard expects Feetz to begin taking orders by year-end.