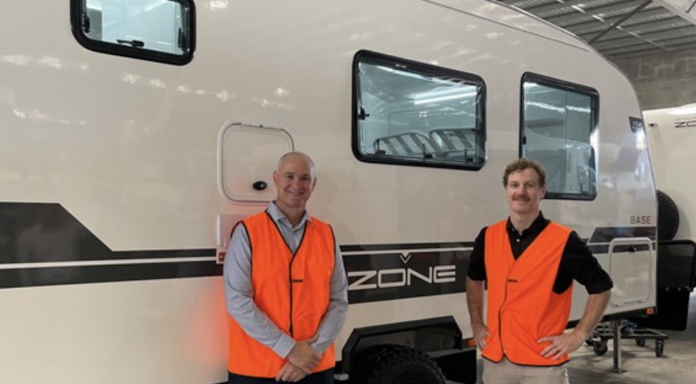 Sunshine Coast business ZoneRV has been awarded a $1.4 million Made in Queensland grant to become an industry leader in manufacturing stronger and safer off-road caravans.
Announcing the grant at ZoneRV's Sunshine Coast facility, Queensland's Minister for Regional Development and Manufacturing Glenn Butcher said the funding would help ZoneRV invest in an advanced composite division and a state-of-the-art manufacturing facility, which is going to support 90 new jobs.
"Through Made in Queensland, the Queensland Government is supporting manufacturers to invest in new technologies and create more jobs," the Minister said.
"This is a win for local businesses and local communities and it's something this government is incredibly proud of."
ZoneRV founder David Biggar said the company's state-of-the-art facility will include new equipment, robotics, and interconnected systems that will enable them to manufacture more materials more efficiently.
"This grant is helping us realise this vision," Mr Biggar continued.
"Our team harnesses 25 years' experience in true composite manufacturing across the marine, aeronautical and civil construction industries and our products reflect this setting a new benchmark for caravan manufacturing standards in Australia.
"Thanks to the support from the grant we will be able to grow our team as well as create new and innovative products that will diversify our offering."
Image credit: https://statements.qld.gov.au/statements/95347?fbclid=IwAR11VatIytlw5OVd1S7P9tO6jHAgYnN27Hg5rBhbnEiRgVDxyjl5GXrsHOc