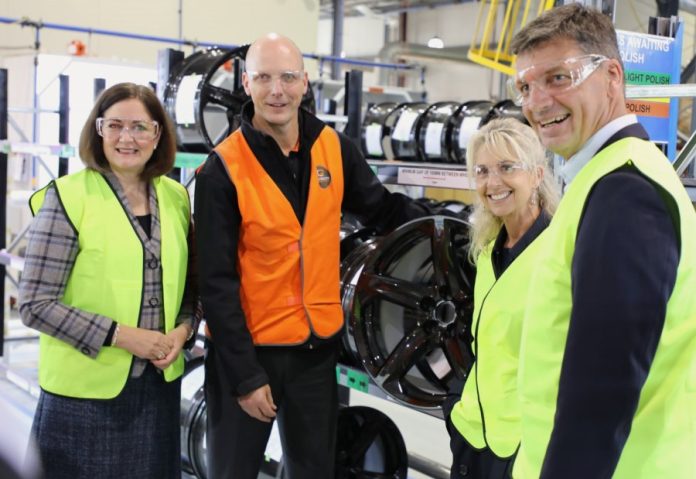 The Federal Government, through its Modern Manufacturing Initiative (MMI), has awarded Carbon Revolution $12 million in funding for its Mega-Line project.
Awarded in Round 2 of the MMI Manufacturing Integration Stream – Recycling and Clean Energy, the grant will strengthen Carbon Revolution's capacity to supply the rapidly growing global electric vehicle (EV) market, where its range-extending carbon fibre wheel technology is generating strong future demand.
Carbon Revolution CEO, Jake Dingle said the award would help fund the remaining scope of the Phase 1 Mega-Line project, which will expand the Company's capacity by 75,000 wheels per year to 155,000.
"Carbon Revolution is very excited to have secured this grant that further strengthens our drive into the global EV supply chain," Mr Dingle said.
"We are proud to be generating opportunities for our skilled workforce in Geelong and working with local partners on delivering our Mega-Line. We thank the Commonwealth Government for their support of Australian advanced manufacturing."
The company's lightweight wheel technology, which is sought after by OEMs for its ability to improve EV range and reduce noise, is already in mass production for customers such as Ford, Ferrari, and General Motors.
Due to strong OEM demand, Carbon will commence construction of the Mega-Line project in late 2021, with new equipment such as conveyors and advanced robots already being commissioned.
"The Mega-Line project is employing industry 4.0 technology to improve flow and efficiently scale up production at Carbon Revolution's Waurn Ponds factory," it said in a statement.
Image credit: https://www.carbonrev.com/news/mmi-grant-may-22?fbclid=IwAR1ukKn8l5zmYvFIadlXSjU6ysXe1dpaxGgtK95-5ljyw6MVjjIdx7wgtxw