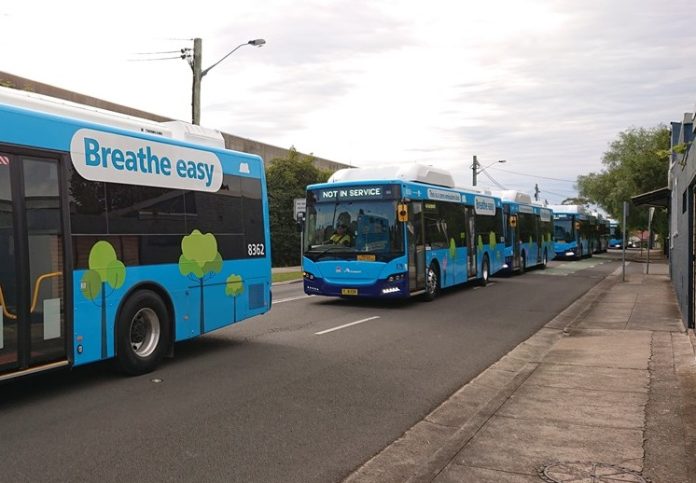 The Clean Energy Finance Corporation (CEFC) has announced $24.5 million in funding to support the replacement of 40 internal combustion engine buses in NSW with clean, green vehicles.
The $36 million pilot project, which is also backed with $5 million from ARENA, involves the deployment of Australia's largest electric bus fleet, charging infrastructure and a retrofitted bus depot in Leichhardt in Sydney's inner west.
It will be delivered by a Transgrid and Zenobe joint venture, with funding and in-kind support from project partners including Transit Systems and Transport for NSW.
CEFC CEO Ian Learmonth said electrifying the NSW bus fleet would drive down noise and pollution on Sydney's busy road network.
He said the project was expected to abate two thirds of carbon emitted for every kilometre travelled, saving 2,600 tCO2e annually and up to 39,000 tCO2e over the expected lifetime of the equipment.
"This investment will start to transform the NSW bus service from one that is noisy and polluting, powered by fossil fuel, to a public transport system that relies on renewable energy and is fit for the 21st century," Mr Learmonth continued.
"It will demonstrate that electrification of transport is possible on a large scale, and further show that increased EV uptake improves our environment, our health and the liveability of our cities.
"We also hope it will encourage more people to choose quiet, modern and energy efficient public transport as a practical way to cut their own transport emissions."
ARENA said the three-year trial 'represents the next step in helping to reduce emissions in public transport and heavy transport'.
"As part of the project, the Leichhardt depot is being retrofitted to include the use of 40 electric buses with a combination of 368 kWh and 422 kWh onboard batteries, five 120 kW electric bus chargers capable of charging two buses at a time, thirty one 80 kW electric bus chargers, 2.5 MW / 4.9 MWh of stationary batteries, and 387 kW of rooftop solar PV," reads the statement.
"The electric bus fleet will service public bus routes in Sydney's Inner West, the CBD, Mascot and Green Square.
According to CEFC's statement, the first 12 of the 40 new electric buses will begin to enter service this month, with the rest of the fleet arriving over the next four months.
Image credit: https://www.cefc.com.au/media/media-release/cefc-finance-powers-australia-s-first-electric-bus-fleet-to-drive-down-noise-and-emissions/