The Maritime Union of Australia (MUA) and the Construction, Forestry, Mining and Energy Union of Australia (CFMEU) have begun historic negotiations to merge.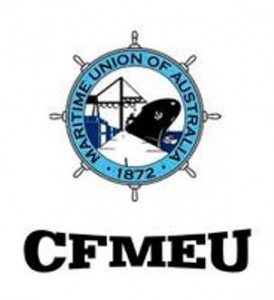 CFMEU National Officials Michael O'Connor, Dave Noonan, and Tony Maher met last Friday in Sydney with the MUA's National Council to begin formalising a merger, which will be taken to the membership of the MUA at the union's National Conference in February.
"We have been presented with a monumental opportunity to represent working men and women in the Australian workplace without losing the long and proud history of our union. The MUA is no stranger to mergers and since the Waterside Workers' Federation and the Seaman's Union of Australia amalgamated in 1993 the MUA today is here to stay and can only grow in strength in this new union," said MUA National Secretary Paddy Crumlin.
If the merger occurs it will result in the most powerful union in Australia.
"This is a huge decision that hasn't been taken lightly, but discussions to merge with the like-minded CFMEU will help us fight the ever-pervasive anti-worker and anti-union attacks on workers and their entitlements and job security. We will continue to work through the issues with our members to ensure any merger is in their absolute best interest and have their total support," CFMEU National Secretary Michael O'Connor said.
"The opportunity we've been presented with will bring great strength to the national and international union movement. The MUA offers us a chance to strengthen our politics within the CFMEU, because the struggle isn't just about increasing wages, or creating a safe work site, there is also a bigger and important political struggle. We're very conscious of the MUA's identity and we want to make it clear that this is a merger of equals. This move will be hugely beneficial to not just the members of the MUA and CFMEU but will lead the way for all working men and women."